Promoting ethical flowers for improved working conditions in supply chains: The disconnect between increased certification and poor purchaser knowledge
FUNDER
British Academy/Leverhulme Trust
PROJECT OBJECTIVES
This project examines how the promotion of ethical flowers can contribute to improved working conditions in supply chains. It investigates a puzzling disconnect between the trend of flower farms investing in social certification, and poor purchaser knowledge of standards. The research is significant as it advances understanding of certification as an expression of corporate social responsibility (CSR) and has embedded practical impacts, as demand for ethical flowers will benefit businesses and promote sustainable improvements. The objective is to develop a model for ensuring the value of certification is benefited from throughout the supply chain, from workers through to consumers.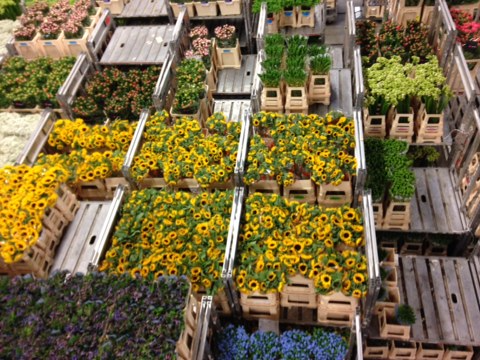 Sunflowers for auction in the Netherlands
IMPACT STATEMENT
The flower industry has grown significant over the last two decades, and is a £1.8 billion business in the UK. However, cut-flower work can be precarious and associated with environmental concerns. Technological developments have promoted intensive farming and facilitated international supply chains involving some of the poorest countries, whilst rising supermarket power has intensified competition and price sensitivity. It is characterised by dramatic changes in demand (such as around Valentines and Mother's Day), and the workforce is often made up of temporary, unorganised, low paid women. Cost pressures and the nature of the product also bring environmental and health concerns, including the use of toxic chemicals to increase crops and prolong life in transit to distant shops.
In this context, an ethical or responsible flower has been defined as a certified one, with farms investing in private regulation to demonstrate their employment and/or environmental practices have attained certain standards. However, we find the myriad certification schemes are complex, with not only consumers, but often florists and even wholesalers misunderstanding or being unaware of them. Therefore it is difficult for purchase decisions to be made based on ethical considerations.
By investigating the uneven promotion of ethical flowers, this project is identifying opportunities for the value of certification to be benefitted from throughout the supply chain. The study is impactful, as interest in ethical flowers will spotlight poor conditions and increase demand for rigour in certification, positively affecting businesses and work conditions in newly developing countries, potentially influencing other industries exploring certification.