Somatic Performance Practices: Sandra Reeve and Ecological Movement
Coventry University
Partners Decoda and City Arcadia
Emma Meehan (PI), Rebecca Stancliffe (impact) and Lily Hayward Smith (admin and marketing).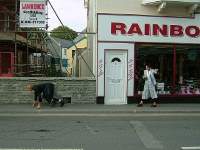 ---
The aims of the research include:
Developing a UK case study on somatic practices in performance
Drawing out information on 'context' as an aspect of somatic practices in performance
Addressing the socio-political and ecological aspects of somatic practices through Reeve as a case study
Highlighting theatre as an underrepresented aspect of somatic performance practices
Understanding the impact of non-Western practices on somatic performance practices and how they are adapted to UK settings.
Pathways to Impact included an artist's retreat, which was free to attend, to reach out to communities who might not otherwise have access to the research, including the professional dance and theatre community. The retreat shared the research ideas in practical formats, to make the research freely available to a wider community and expand industry applications. There was also a final day practice-based sharing the work with a public audience. Reflections have been gathered from professional practitioners and audience members, to document if/how the research has transformed creative practice and perspectives on the city. Partners Decoda and City Arcadia also engaged with the project by discussing the work of other professional artists who have worked in the city of Coventry, to create continuity between past and present arts projects in the city. I have documented the research process through collecting writings, photographs, video and other media, to be shared on the website and social media.
Download our programme for the retreat.
Twitter hashtag: #ReeveRetreatCov