Making Waves: RIPPLE 2
£432,881 in total, £96,747 for evaluation
NHS West Midlands Regional Respiratory Team, South Staffordshire and Seisdon Peninsula Clinical Commissioning Group, British Lung Foundation, University Hospitals Coventry and Warwickshire NHS Trust.
Dr. Alan Taylor, School of Health
Dr. Louise Sewell, School of Health
Joy Monkhouse, School of Art and Design
Dr. Amir Khan, CIRAL
Dr. Colin Gelder, Consultant Respiratory Physician, West Midlands Regional Respiratory Programme
Paul Dodd, Programme Specialist, West Midlands Regional Respiratory Programme
Victoria Fessey, School of Health
Michelle Kerslake, School of Health
Vicky Lord, School of Health
Sean Lowton-Smith, School of Life Sciences
Karen Ward, School of Psychological, Behavioural and Social Sciences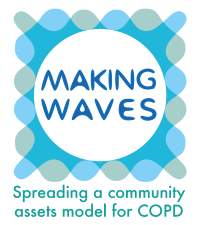 Making Waves is the spread project for the community clinic model developed through the RIPPLE project in Coventry [link to research page]. We have developed a prototype based on a co-created theory of change, and Making Waves supports six sites across the Midlands to implement this model within their particular context. We're working with partners in Dudley, Northamptonshire, Nottingham North East, South Birmingham, South Lincolnshire and Wolverhampton. We're evaluating how the project improves the health and wellbeing of patients with COPD, their self-efficacy and ability to self-manage and the impact of integrated support on individuals with long-term conditions, communities and the healthcare system.
Making Waves builds on the success of the RIPPLE project developed by a consortium of NHS, social and health care organisations, voluntary sector organisations, Coventry University and most importantly, patients and carers. Working in partnership with the NHS West Midlands Regional Respiratory Programme, we have involved NHS CCGs, Acute Trusts, community organisations and people with COPD and their carers, in co-creating new approaches to the management of long-term conditions. We are evaluating improvement in wellbeing and reduction in anxiety amongst a range of COPD patients who live with significant social isolation and social deprivation.
Integrating findings from validated tools, together with data on resource usage and patient pathways, we will also construct an economic model for the community clinic, with performance economic analysis.
We're exploring the barriers to and enablers of innovation in complex healthcare systems, in interagency working and in the NHS. We're interested in how innovation spreads, too. So it's important to study the impact that the project makes.
We have therefore developed a detailed branding, communications and impact plan because a significant component of the evaluation is to review the effectiveness of communication of innovation and improvement within the NHS, and in particular in relation to partnership working.
Identifying our key stakeholders as people with COPD, their families, respiratory physicians, primary care workers, commissioners and academics and policy makers, we are producing a range of materials, publishing academic papers, attending conferences and workshops, thus developing and promoting new models for integrated care.
We're just at the start of an exciting journey...
---
See also the related project 'RIPPLE: Respiratory Innovation Promoting a Positive Life Experience'
Making Waves: Project news Spreading the model that is making an impact on COPD September 2016 Update
Making Waves: Project news Spreading the model that is making an impact on COPD December 2016 Update