Digital Dance Archives
FUNDER
AHRC
VALUE
£428,597
COLLABORATORS
University of Surrey
National Resource Centre for Dance (NRCD)
PROJECT TEAM
Sarah Whatley and David Bennett.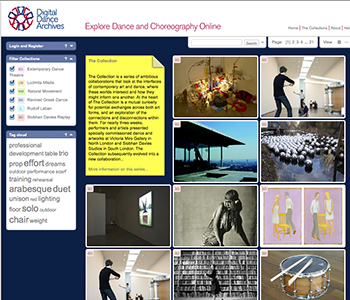 PROJECT OBJECTIVES
A collaboration with the University of Surrey and the National Resource Centre for Dance (NRCD), this AHRC-funded project provided public access, via one web platform, to several distinct dance collections from the NRCD, as well as Siobhan Davies RePlay.
These collections represent over 100 years of British dance performance, creation and research and include photographs, films, drawings and other ephemera. The project developed several online tools to develop user engagement with dance objects including a visual search tool and an interactive virtual scrapbook.
http://www.dance-archives.ac.uk/
RESEARCH IMPACT
The project provided a visual platform for piloting and encouraging creative, and multiple, modes of interaction with moving image information via the internet.Designed for a range of users including students, teachers, artists and audiences, the DDA provides a lively interactive and multi-dimensional' one-stop' portal for dance, similar to other major search engines, enhancing the social and cultural impact of dance resources whilst developing new communities of interest. The project developed a prototype visual search tool (recognising colour/shape/gesture similarity) to inform other processes of visual searching through digital content.