Responsible Business Practices in SMEs: the case of the Birmingham Jewellery Quarter
FUNDER
ES Faculty Pump Prime Fund
VALUE
£4830
PROJECT TEAM
Professor Marylyn Carrigan
Dr. Caroline Moraes
Dr. Carmela Bosangit
COLLABORATORS
Dr Carlos Ferreira (CBIS)
Dr Morven McEachern, University of Salford
Dr Michelle McGrath, University of Winchester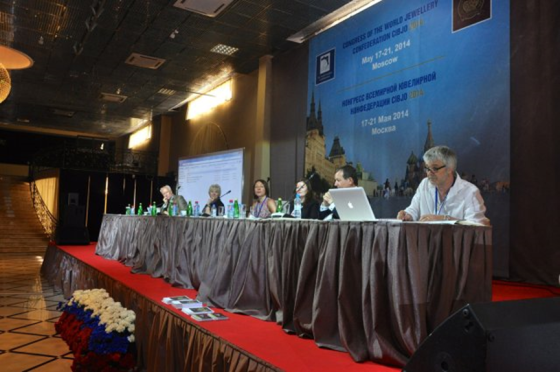 Congress of the World Jewellery Confederation (CIBJO) in Moscow, Russia.


PROJECT OBJECTIVES
In contrast to the mainstream literature on corporate social responsibility [CSR], there has been limited coverage detailing the CSR practices of small and medium-sized enterprises [SMEs]. The jewellery industry operates from unique geographical clusters and distinctive networks of interdependent SMEs with local and global connections built on trust, but it is criticised for its lack of transparency and traceability and is under pressure to adopt more responsible sourcing and production practices. Using the context of the Birmingham Jewellery Quarter [BJQ], this exploratory study aimed to understand how SMEs integrate responsibility into their everyday business practice and consumer attitudes to jewellery CSR.
RESEARCH IMPACT
Qualitative interviews were used to research a sample of small and medium sized jewellery manufacturers, retailers and designers, and UK shoppers who purchase jewellery at the Birmingham Jewellery Quarter. Findings suggest that the retailing and social environments of jewellery purchasing practices are relevant in enabling more ethical consumer choices. While shoppers have good awareness of responsibility issues linked to other products such as coffee and chocolate, for example, they do not consider such issues in their fine jewellery purchases. If responsibility considerations are to become part of consumers' fine jewellery choices, they must first be embedded in the organisation of retail places and spaces. However, research findings from the industry study suggest the exclusion of SMEs from CSR initiatives being undertaken by the jewellery industry. Significant barriers were cited by SMEs who believe they are disproportionately disadvantaged by the requirements of responsible practices and there is limited evidence that small jewellery firms are incorporating CSR into everyday business, and some indication of CSR participation asymmetry.
The team organised a dissemination workshop for industry, trade associations and policy makers: 'What's in it for me? Raising standards in the Jewellery Industry', February 11th, at Birmingham School of Jewellery, in collaboration with the British Jewellers Association. Drawing on the findings, this workshop brought together academics and practitioners to discuss the implementation of workable and sustainable CSR policies for the jewellery industry.
Findings have been presented to the jewellery industry at the Responsible Jewellery Council (RJC) Conference and the World Jewellery Confederation (CIBJO) Annual Congress 2014, Moscow, Russia, and the following other international academic conferences: 39th Annual Macromarketing Conference, Royal Holloway University of London, London, July 2-5th; 122nd American Psychology Association (APA) Annual Convention, Society for Consumer Psychology Summer Conference.
Further information on this research can be found at the Jewellery SMEs blog: http://jewellerysmes.wordpress.com/
The RJC Impacts report for the Jewellery Supply Chain Project can be accessed here: Responsible Jewellery Council Impacts Report