KTP with NPL
Funder
NPL
Value
£108,000
Collaborators
The National Physical Laboratory
Project objectives
This project will develop a novel process to functionalise fibres within a fabric to enable the fibres to be coated with metallic nanoparticles. These fibres will then become catalytic towards electroless plating that will ensure the fibres within that fabric are fully encapsulated with metal to the thickness required for high conductivity. This will allow for selective metallisation of fabrics with a significant range of potential applications within the health, sport, electronics and high value manufacturing sectors. The project will also produce a 'smart' fabric demonstrator to showcase the new, innovative process.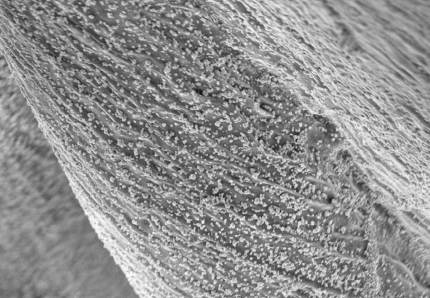 Research impact
The World Wearable Technology market is estimated to be worth £7bn in 2015 and the UK share of the market is worth around £70m. The future of wearable technology lies in electronic devices that can be integrated into fabrics such as bandages with strain gauges and/or sensors for wound care management; clothing with integrated electronic devices or fabrics with integrated sensors. To achieve these exciting new wearable technology products a process to selectively metallise a fabric must be developed. Such a process will open up a number of licensing opportunities as well as enabling new wearable technology demonstrators to be produced and licensed. The competition in the wearable technology market is fierce and this project aims to quickly bring a selective metallisation process to market and produce simple demonstrators.
The initial impact of this project is expected to be in the healthcare sector and in particular on wound care management products e.g. smart bandages with integrated strain gauges that will enhance patient experience, reduce recovery times and enable better use of hospital resources. Additional social benefits can be achieved via new products related to the ageing population by selectively integrating sensors into clothing.
It is estimated that licensing options for the selective metallisation process could return significant profits and employment opportunities up to 3 years after project end. Environmental benefits are expected as this is an additive rather than subtractive process, the method will only bond the metal in the desired place, avoiding its waste.