Supporting Urban Integrated Transport Systems (SUITS)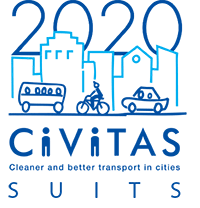 Partners
SUITS project is based on the collaboration of a wide range of partners from 11 countries. The consortium includes universities and research institutes, municipalities, public transport authorities and consultancies specialised on mobility, information technologies and sustainability.
Duration of project
November 2016 - February 2021
Website
---
Project overview
The SUITS project was a four-year research and innovation action to increase the capacity building of Local Authorities and transport stakeholders and to transfer learning to smaller sized cities, making them more effective and resilient to change in the judicious implementation of sustainable transport measures.
SUITS is one of the three projects of the EU's CIVITAS 2020 initiative focusing on sustainable urban mobility plans.
H2020 CIVITAS SUITS addressed the topic 'strengthening the knowledge and capacity of local authorities' (MG-5.4 -2015) by providing SM LAs with a holistic and sustainable approach to capacity building , with the aim of transforming transport departments into resilient learning organisations able to meet future challenges and lead innovation in their cities. One of the key USPs of SUITS is in relation to organisational change, creating a climate for the development and implementation of context specific sustainable transport measures.
At the time of the proposal DGMove ranked the barriers to integrated sustainable mobility measures in terms of importance as 1) lack of political will; 2) lack of knowledge of integrated transport measures and approaches; 3) planning culture and tradition; 4) lack of funds for integrated projects.
Using a socio-technical, participatory approach with the LAs, a range of tools and methods were developed and validated in the project to reduce knowledge gaps, enable organisational change and provided guidance on innovative funding and procurement. Developing the capacity of LAs means that they can draw on evidence-based practice and mobility data to make more convincing arguments to local politicians and senior members of the authority to implement sustainable transport measures.
In summary, in relation to the specific challenges of the call:
A range of tools has been developed to capture and integrate freight and passenger movement.
SM LAs have been supported in undertaking an organisational analysis which supports long term policies and focus.
Long term policies and focus have been further supported through an organizational change programmed which has been embedded within the LAs as part of their culture.
The Capacity Building Toolbox (including e-learning material, guidelines and demonstrations) has been shown to enhance LA's capacity to successfully plan and implement sustainable transport measures. SUITS demonstrated the importance of data, how it can be captured, visualized, integrated and used to inform transport decision making, thereby reducing knowledge gaps and capability. The project also recorded highlight the continued gap in knowledge the existence of additional barriers in this area.
In relation to capacity gaps in understanding of innovative financing, procurement. SUITS has produced guidelines (in all project languages), an online decision support tool, new business templates, these have already been used to inform SUMP development and win tenders. On relation to the development of bankable projects and partnerships, over 10 specimen business model templates have been created, in discussion with LAs, relating to contemporary innovative sustainable transport propositions, with SUITS partners also benefitting from this activity. The use of such templates can ensure that business startups have a greater chance of long-term success and understand the needs of LAs.
Project objectives
The project will produce and provide to small and medium-sized cities a set of tools on planning, financing and implementing sustainable transport measures and will support the enhancement of the capacity of nine cities in seven EU countries to address efficiently the new challenges of urban mobility and to foster investments in sustainable transport.
Project objectives are to increase the capacity of local authorities to develop and implement sustainable, inclusive, integrated and accessible transport strategies, policies, technologies, practices, procedures, tools, measures and intelligent transport systems that recognize the end-to-end travel experiences of all users and freight.
Impact statement

The first output of the project was a self-audit process for LAs. This fed into an organisational change programme, which was designed with each LA to develop them into learning, innovative and resilient workplaces, which understood and worked towards sustainability agendas. All LAs in SUITS followed the 6-stage process, which had an immediate, and beneficial impact on their work working practices and structures. Based on these experiences, the project has developed a framework and guidelines on how to conduct organisational change in LAs.

Working with the LAs, SUITS identified a number of gaps in knowledge in employees and across the organisation relating to implementation of innovative transport measures, financing and procurement and data handling. A set of multilingual, training material was developed, the capacity building toolset. This includes workbooks, facilitators guide, workshops, webinars, e-learning material relating to building S-M LA's capacity to:

implement emerging transport technologies (ITS, Electric mobility, CAVs etc.)

introduce innovative transport schemes (MaaS, Uber, Business Models etc.)

implement urban transport safety and security measures for all vulnerable users (passenger and freight vehicles etc.)

implement urban freight transport measures (SULPs, Crowd-shipping, cargo bikes etc.)

data collection and analysis tools for integrated measures

use innovative financing, procurement and business models

All material is available on the project website, Eltis and Civitas portals (https://civitas.eu/tool-inventory/suits-tool-0) and Eltis' website.

Lastly SUITS created and demonstrated a bespoke suite of data collection and visualisation tools to enable smaller authorities to crowdsource, store and visualise real time mobility data to inform transport planning. Additional investigations on the data integration led to a congestion KPI, and greater understanding of barriers faced by LAs.

Outputs

Outputs

All training material is available from https://www.suits-project.eu/

The material has been especially developed for those new to sustainable transport and mobility data and for smaller local authorities. It includes stand alone modules, facilitator guides, webinars, online decision support system for innovative financing and case studies.

Social media

https://www.facebook.com/suits.civitas.project/

https://www.facebook.com/suits.civitas.project/posts/3725843637499697

Animated video: https://www.youtube.com/watch?v=nND5HrCGswQ

Partner opening statement videos (2015): https://www.youtube.com/watch?v=608sGhzYMKU&t=91s

Final conference: https://www.youtube.com/watch?v=-TZvzrDA4Kk

Tools for crowdsourcing and visualisation of mobility data

https://www.suits-project.eu/tools/

Data repository: https://www.suits-project.eu/data-repository/

Data capture and visualisation: https://www.mypolislive.net/

Publications

Bellini, F., Dulskaia, I., Savastano, M., D'Ascenzo, F. (n/d) Business Models Innovation for Sustainable Urban Mobility in Small and Medium-Sized European Cities, Management & Marketing. Challenges for the Knowledge Society, 14, 3, Autumn, pp. 266-277, ISSN 2069–8887
Budhdeo, S., Keelan Fadden-Hopper, K., Drambarean,T., Krinos, I. and Woodcock, A. (2019) H2020 CIVITAS SUITS: supporting local authorities' implementing sustainable transport measures, Towards a Humane City Conference, Novi Saad, https://humanecityns.org/conference-proceedings/
Diana, M., Pirra, M., Woodcock, A. & Matins, S. (2018) Supporting Urban Integrated Transport Systems: Transferable Tools for Local Authorities (SUITS)

Proceedings of 7th Transport Research Arena TRA 2018, April 16-19, 2018, Vienna, Austria. Zenodo, 10 p.

http://doi.org/10.5281/zenodo.1441138
Diana, M., Pirra, M. and Woodcock, A. (2020) Freight distribution in urban areas: a method to select the most important loading and unloading areas and a survey tool to investigate related demand patterns.

Eur. Transp. Res. Rev. 12, 40

https://doi.org/10.1186/s12544-020-00430-w
Feldman O., Lugovoi A., Parker A., Farooq S. (2019). Financing Mechanisms for Sustainable Transport and Mobility. 47th European Transport Conference, Dublin, Ireland, 9-11 October 2019
Feldman O., Lugovoi A., Parker A. (2019). Supporting Urban Integrated Transport Systems: Guidelines to Innovative Financing. 17th Annual Transport Practitioners Meeting, Oxford, UK, 10-11 July 2019
Feldman O. (2020). Social Value at the Heart of Sustainable Planning, 48th European Transport Conference, 9-11 September.
Founta, A., Papadopoulou, O., Kalakou, S. and Georgiadis, G. (2020) Building capacity of small-medium cities local authorities to implement MaaS and other innovative transport schemes, Proceedings of the "5th Conference on Sustainable Urban Mobility, 17-19 June 2020, (Virtual CSUM2020), published in the book series "Advances in Intelligent Systems and Computing" by Springer (Building Capacity of Small-Medium Cities' Local Authorities to Implement MaaS and Other Innovative Transport Schemes | SpringerLink)
Kalakou, S. Spundflasch, S. Martins, S. Díaz, A. (2020) SUMPs implementation: designation of capacity gaps of Local Authorities in the delivery of sustainable mobility projects. 3 rd. International Conference SSPCR Smart and Sustainable Planning for Cities and Regions 2019, Green Energy and Technology " Results of SSPCR 2019 - Open Access Contributions" Springer International Publishing, 2020.
Nienaber AM., Spundflasch S., Soares A., Woodcock A. (2020) Employees' Vulnerability – The Challenge When Introducing New Technologies in Local Authorities. In: Krömker H. (eds) HCI in Mobility, Transport, and Automotive Systems. Driving Behavior, Urban and Smart Mobility. HCII 2020. Lecture Notes in Computer Science, vol 12213. Springer, Cham.
Nienaber, A-M., Spundflasch, S., Soares, A. and Woodcock, A. (2021) Distrust as a Hazard for Future Sustainable Mobility Planning. Rethinking Employees' Vulnerability When Introducing New Information and Communication Technologies in Local Authorities. International Journal of Human-Computer Interaction. 37. 1-12. 10.1080/10447318.2020.1860547.
Nienaber, A-M., Woodcock, A. and Liotopoulos, F.K. (2020) Sharing data -not with us! Distrust as decisive obstacle for public authorities to benefit from sharing economy. Front. Psychol. 11:576070. doi: 10.3389/fpsyg.2020.576070
Pirra, M., Diana, M. (2019) Integrating mobility data sources to define and quantify a vehicle-level congestion indicator: an application for the city of Turin. Eur. Transp. Res. Rev. 11, 41,

https://doi.org/10.1186/s12544-019-0378-0
Pirra M., Deflorio F., Carboni A. (2019) Monitoring urban accessibility for freight delivery services from vehicles traces and network modelling. Transportation Research Procedia, 41C, pp. 410-413, DOI: 10.1016/j.trpro.2019.09.067
Roseanu, S., Caraman, D. (2019) Proceduri inovative de achiziții publice pentru sprijinirea investițiilor în infrastructurile urbane de transport pe șină, in Proceedings of the XVIIth Romanian Railway Colloquium, Technical University of Civil Engineering, Bucharest, 2019 (under print)
Roseanu, S., Caraman, D. (2019) Proceduri inovative de achiziții publice pentru sprijinirea investițiilor în mobilitatea urbană durabilă, iBuy Project 3rd Workshop, Bucharest, November 2019
Rudolph, F. and Werland, S. (2019) Public procurement of Sustainable Urban Mobility Measures. Brussels: Urban Mobility Observatory.
Spundflasch S., Krömker H. (2019) Challenges for Local Authorities in Planning and Implementing Sustainable and User-Oriented Mobility Measures and Services. In: Krömker H. (eds)

HCI in Mobility, Transport, and Automotive Systems. HCII 2019. Lecture Notes in Computer Science, vol 11596. Springer, Cham.

https://doi.org/10.1007/978-3-030-22666-4_24
Spundflasch, S., Rudolph, F., Glensor, K., Fadden-Hopper, K., Miller-Crolla, K. & Woodcock, A., (2019) MaaS Implementation; Local Authorities' Perspectives? CIVITAS Forum, Graz
Werland, S. (2020) Diffusing Sustainable Urban Mobility Planning in the EU. Sustainability 2020, 12(20), 8436;

https://doi.org/10.3390/su12208436
Werland, S. and Rudolph, F. (2019) Funding and financing of Sustainable Urban Mobility Measures. Brussels: Urban Mobility Observatory.
Woodcock, A. (2019) Developing and implementing sustainable, inclusive, integrated and accessible transport strategies, 1 Oct 2019, In: Open Access Government . 24, p. 522-523 2 p.
Woodcock, A., Nienaber, A-M., Olympia Papadopoulou, O., Pirra. M. (2019), Overview of H2020 CIVITAS SUITS: supporting local authorities' delivering sustainable transport measures, Towards a Humane Cities Conference, Novi Saad https://humanecityns.org/conference-proceedings/

Forthcoming

Andree Woodcock, Janet Saunders, Eileen O'Connell, Keelan- Fadden Hopper (eds) (forthcoming) , Capacity Building in Local Authorities for Sustainable Transport Planning: Using Sustainable transport as a mechanism for organisational change, Taylor and Francis