STAR Energy: Sustainable and Replicable Off-grid Renewable Energy System for Riverside Communities in the Amazon
Funder
British Council - Newton Institutional Links Grants
Value
£50,000
Collaborators
Universidade Federal do Amazonas
Team
Professor Elena Gaura (PI - Coventry University), Dr Alessandro Bezerra Trindade (PI - Universidade Federal do Amazonas), Professor James Brusey (Co-I - Coventry University), Dr Kojo Gyamfi (Coventry University), Dr Ross Wilkins (Coventry University) and Dr Jelte Harnmeijer
Project objectives
This institutional link aimed to design, implement and monitor a pilot low-carbon based energy solution with a sustainable business model to increase energy security, reduce environmental impact and improve economic and health indicators for one riverside community that can be scaled and replicated in other communities in the Amazon.
The institutional link is building the expertise, knowledge and skills of academics in the renewable energy sector in Brazil, leading to sustained and robust links between Coventry University (CU) and Universidade Federal do Amazonas (UFAM). The expansion of the multi-sectorial UNESCO UNITWIN Network in Humanitarian Engineering (in which CU is the global lead), will facilitate linkages between academia, industry, NGOs and governments.
Societal Impact
The Star Energy project demonstrates how one riverside Amazonian community uses environmentally friendly technology to deliver renewable energy systems to live sustainably. The pilot scheme reflects the government aims for 23% of Brazil's energy to come from renewable sources by 2030 as part of its effort to tackle climate change [1]. As a community co-designed and co-constructed renewable energy system, the households involved in the project gained an awareness of how renewable energy systems mitigate environmental concerns while achieving their energy driven aspirations.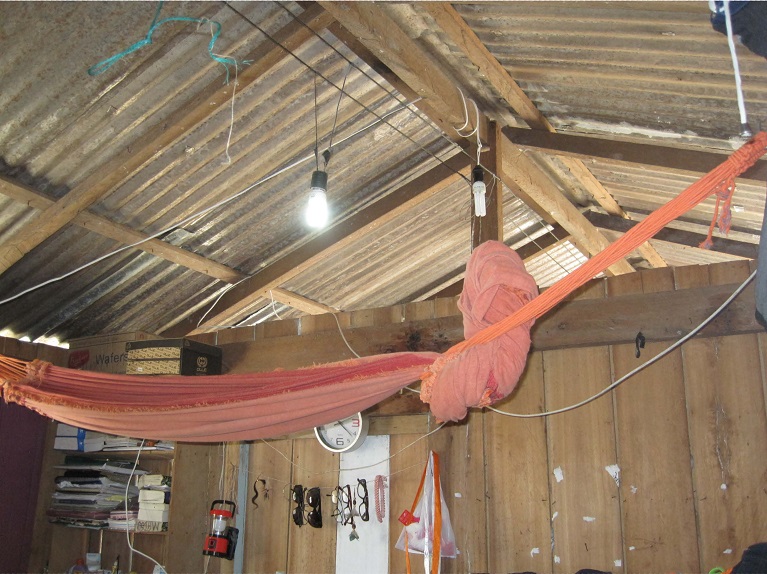 Testing components for the renewable energy system (Nova Esperança, Brazil, 2018)
Academic Impact
The project built an evidence base of demographics, energy needs and aspirations and wellness data from riverside communities in the Amazon region. The data collected improves the capacity of research related to renewable energy systems and on sensor based monitoring technologies to offer innovative energy processes. A significant contribution to literature was made on how community participatory approaches to energy systems can be implemented, measured and inform energy discourses.
Alongside traditional publications, the project also delivered energy education packages and training for local communities. The co-developing of training and education programmes between university partners on renewable energy technology and energy efficiency awareness in the Amazonian context creates pathways to impact. Academics, communities, practitioners, industry, NGOs and governments in Brazil can draw upon these training projects when delivering future renewable energy programmes.
To pursue further opportunities for undergraduate students to apply knowledge outside of the project, the Star Energy Extension Project was approved, which will see a new generation of academics working on ways to develop renewable energy systems in the riverside Amazonian context.
Economic Impact
Through its deliverables and post-project plans, this project contributes to the development of a private sector in renewable energy supply infrastructure in Brazil by rural energy entrepreneurs who market, install, and service these systems. The project will create opportunity for productive purposes (home businesses and cottage industries) and foster social and economic development in remote Amazon communities (e.g. frozen fruit pulp business with the provision of refrigeration).
The long term impact could see widespread adoption of renewable energy systems with economically viable business models that is scalable and replicated in riverside communities in the Amazon. When fully developed, microgrids supplied by renewable energy will increase energy security, enhance efficiency, provide the local community with control of the energy supply, support economic growth and address poverty reduction.
[1] Clean Energy Ministerial (2020) 'Brazil'. Accessed online 4 August 2020
Research Outputs
Datasets:
Brazil STAR Project Microgrid Monitoring Data
Research paper:
Understanding Household Fuel Choice Behaviour in the Amazonas State, Brazil: Effects of Validation and Feature Selection
Legacy Project Presentation:
STAR Energy: the story, the insights and the lessons