AME welcomes the next generation of engineers as demand for courses remains high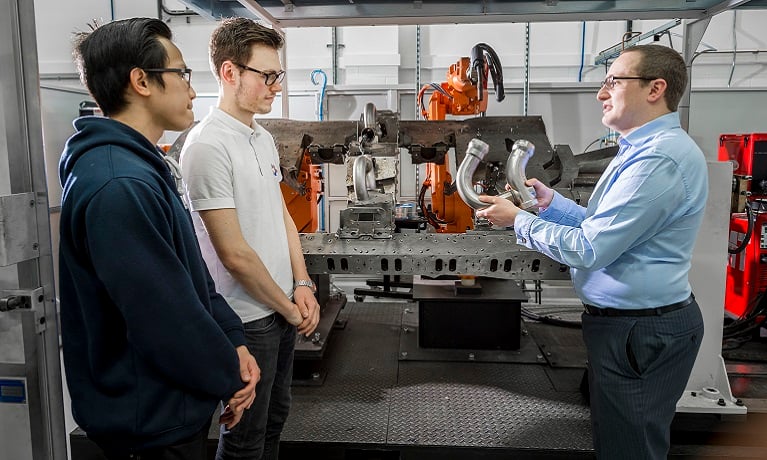 ---
Thursday 17 December 2020
Press contact
---
The award-winning Institute for Advanced Manufacturing and Engineering (AME), part of the Institute for Future Transport and Cities (IFTC) at Coventry University, has recorded its fifth full cohort of students onto its BEng and MEng courses.
With an estimated need for an additional 1.8 million engineers in the UK by 2025, there is a clear need to address the present skills gap. In response, AME was established to future-proof the UK engineering and manufacturing industries, and resulted in a collaboration between Coventry University and Unipart Manufacturing. Known as the UK's first 'Faculty on the Factory Floor', this news followed the Institute's success in receiving the prestigious Queen's Anniversary Prize in 2019, in recognition of the hands on experience it provides to students.
In addition to teaching, the Institute also conducts leading research at its facility, with academic expertise and knowledge playing a key role in the drive for cleaner mobility. This includes work with industrial partners to develop new manufacturing technologies and solutions across the manufacturing sectors. For example, the H1PERBAT project (led by Williams Advanced Engineering) focused on the development of a novel battery technology, with the ultimate aim of building UK industry capability for mass-scale battery manufacturing.
The news that demand for AME's courses is thriving — even during the uncertainty surrounding the COVID-19 pandemic — will be welcome to industry bosses. There is still a desperate need for skilled engineers from all sectors of industry, so we are delighted that, for the third successive year, we have a full cohort of students.

"We have a good pipeline of young talent coming through the ranks and, importantly, they want to learn and apply what they're being taught on live manufacturing projects that gives them essential practical and softer skills.

Dr David Waugh, AME Course Director
About IFTC: AME is part of the wider Institute for Future Transport and Cities (IFTC), which conducts pioneering research and creates solutions to improve transport and other aspects of city living. From accelerating the progression towards zero-carbon transport and developing inclusive design practices to ensuring the safe implementation of autonomous transport solutions, IFTC is central to solving global mobility challenges. IFTC works closely with industry to ensure that its research has real-world applications, maintaining close relationships with leading businesses within the transport sector.
Coventry University is a dynamic, global institution with a tradition of teaching excellence, impactful research and bold international partnerships. Described in the Times and Sunday Times Good University Guide 2019 as "one of the most innovative modern universities, bold with its vision of what the 21st century student experience should be", the university's approach to higher education developments has been central to its success.