Coventry University helps to build electric future of UK automotive industry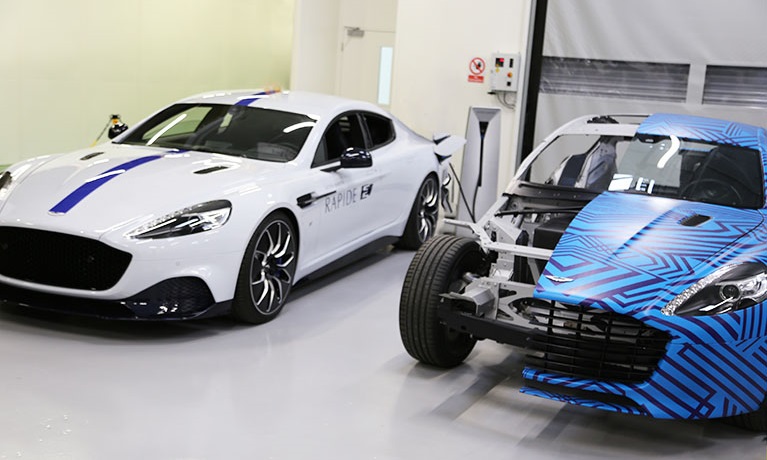 ---
Thursday 05 March 2020
Press contact
---
Coventry University's Institute of Advanced Manufacturing and Engineering (AME) has delivered on a project to develop a pioneering joining process to assemble key battery components.
The project, known as H1PERBAT, was jointly funded by APC UK and Innovate UK at a value of over £8m. It was undertaken alongside high profile partners, including Williams Advanced Engineering, Aston Martin Lagonda and Unipart Powertrain Applications. A prototype battery pack was produced with the aim of applying the new manufacturing process to the battery assembly of a pure electric Aston Martin Rapide E.
While the H1PERBAT prototype battery pack has been developed for a high-performance application, it is also expected to play a critical role in improving battery manufacturing processes for mass market vehicles. At present over 90 percent of electric vehicle batteries come from Asia. The outcomes will help to improve the competitiveness of automotive battery manufacturing in the UK amidst rapidly increasing electrification across the industry - something that is crucial in the wake of the UK's ban on sales of new internal combustion-powered vehicles from 2035.
H1PERBAT culminated in a showcase event on 22 January 2020, hosted at the university's joint AME-Unipart facility. The event provided an opportunity to highlight the conclusions of the project and the capabilities of AME and Coventry University to a diverse audience of over 60 delegates from funding bodies, consortium members, government, industrial and academic partners.
Dr Naveed Iqbal, Assistant Professor at AME, said:
"The automotive sector accounts for around a quarter of greenhouse gas emissions in the UK. AME is on a mission to help the industry to develop EV drive systems as part of a move towards cleaner mobility solutions. We are proud of the difference our team has made in the H1PERBAT project, having developed smart, sustainable and innovative technology solutions to manufacture EV batteries."
For more information about the project, see the H1PERBAT page.