Cook-alongs give insight into Coventry's Irish community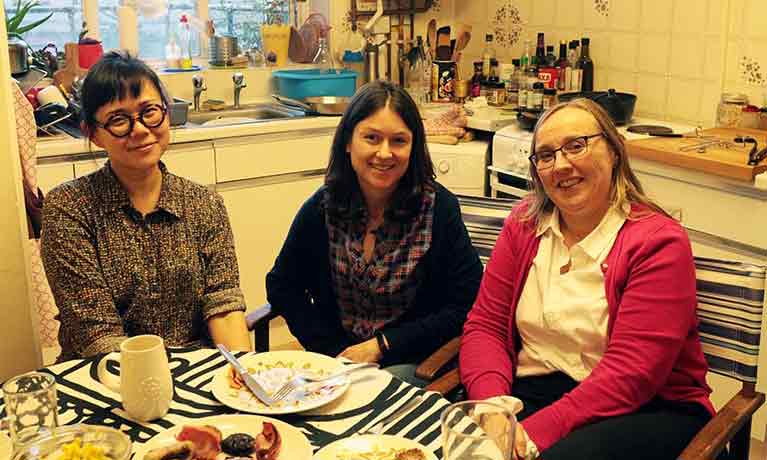 University news / Research news / City of Culture 2021
---
Friday 25 May 2018
Press contact
---
University researchers are using cooking to gain a greater understanding of Coventry's Irish community.
Academics from Coventry and Warwick universities are investigating how Irish people adapted culturally and professionally when they moved to the city, as well as examining how their nationality is engrained in their personalities, behaviour and even their movement.
They are joining members of the city's Irish community in their homes and interviewing them as they cook traditional and non-traditional Irish dishes, such as a 'spice bag', a Dublin specialty featuring chips with a dash of blended spices, and colcannon, a famous recipe featuring potato and kale.
The researchers will also be sharing the stories, food and research on people's experiences of being Irish-born Coventry residents at the city's Party in the Park next month.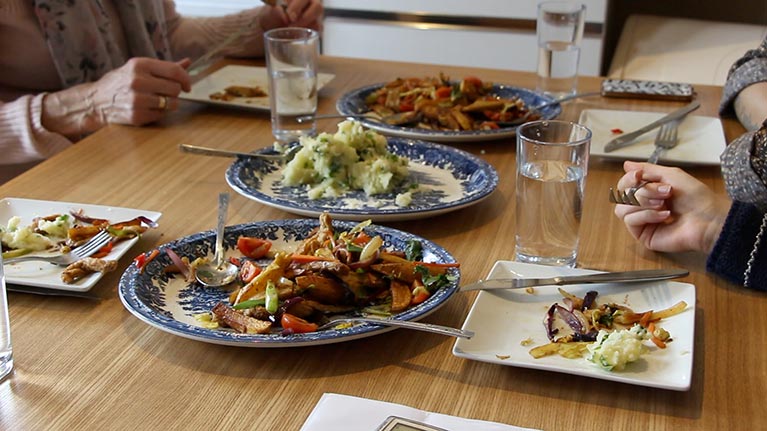 The food prepared at one of the cook-alongs included Ulster fry, spice bag and colcannon.
They have also visited the city's St Patrick's Day celebrations, and the Shopfront Festival to speak to people as part of their research.
The researchers will be sharing their preliminary findings and some of the traditional Irish dishes they've cooked at Coventry Refugee and Migrant Centre' s Refugee Week Party in the Park in Hillfields, on Saturday, 23 June.
The project involves Emma Meehan, a research fellow at Coventry University's Centre for Dance Research (CDaRE), Carol Breen, a PhD student with CDaRE, and Carmen Wong, an artist-researcher and PhD candidate with the Department of Theatre and Performance Studies at the University of Warwick.
Dr Meehan, who moved from Dublin to Coventry in 2012, said:
There were so many social, personality and cultural differences that I noticed when I moved to Coventry from Ireland, from how people behaved in meetings to how they acted in public spaces. It's really interesting to explore how people's Irish culture and behaviour is deeply engrained in them.

For this project we're using food to help capture people's identity and their experiences. We're at people's homes and they are more at ease and open up more as they are enjoying the cooking and chat.

Consequently the interviews end up being far more in depth than normal. We've touched on all sorts of aspects of their lives and heritage; we've spoken about people's attitudes to Irishness, and whether they think they have become more or less Irish when they moved away. It has been really interesting to have these discussions.
Mrs-Wong
It was interesting for me to learn from both Emma and Carol how they experience Irishness as being perceived. It has led us collectively to the question: "what exactly is Irishness in this age of migration and globalisation?

The direction of the stories from the cook-alongs has been amazingly far-reaching and diverse. Some of them have really brought some powerful and poetic images to my mind.
Cook-along participant Alison Ribeiro de Menezes, 48, grew up in County Down, Ireland, and lived in Dublin for two decades, as well as also in Spain, Portugal and the USA. She moved to Earlsdon, Coventry, in 2012. She said:
It was great fun to take part in the cook-along. While we cooked we talked about the food, about my experiences of Ireland, my sense of how Ireland has changed over the years and my changing relationship to Britain.

Our discussions made me reflect that I am more mentally anchored in Ireland than the UK, despite being from Northern Ireland and so British and Irish. I came to the conclusion in the interview that these days, to be Irish is to be mobile (physically and mentally), to move between cultures not fix cultural boundaries.
For further press information, please contact Alison Martin, press officer, Coventry University, on 02477659752 or email alison.martin@coventry.ac.uk
.