Forensic Science BSc (Hons)
Course Code
UCAS Code: CF95
International Code: HLSU255
Location
Coventry University (Coventry)
Study mode
Full-time
Sandwich
Duration
3 years full-time
4 years sandwich
Start date
September 2023
This is a proposed new course for 2023-24 entry and the course content will be added shortly. Please keep checking back on this course page to see our latest updates.
---
Course overview
Study level: Undergraduate
The course provides students with a foundation in chemical and biological sciences coupled with forensic science requirements such as crime scene evaluation, collection and preservation of evidence, and legal aspects.
Forensic science is a critical part of the criminal justice system. A forensic scientist will work in a diverse team to help resolve crimes, and will need to manage crime scenes, analyse evidence, and present expert witness statements in court.
Through a 'crime scene to court' approach, students will be guided through essential concepts such as crime scene evaluation and preservation through to analysis, interpretation, and presentation of collected evidence.
Students will gain a keen theoretical and practical understanding of how science underpin the analysis of forensic materials and how this must withstand legal challenges.
Students will consider a range of forensic evidence types from toxicology, DNA, anthropology, particulates such as glass, and fire and explosive residues.

Global Ready
An international outlook, with global opportunities

Teaching excellence
Taught by lecturers who are experts in their field

Employability
Career ready graduates, with the skills to succeed
Why you should study this course
Authentic applications using expert knowledge of practitioners in the fields of biology, chemistry, pharmacology, forensic science and forensic investigation who bring research and practical experience into the classroom.
A 'Crime Scene to Court' design that guides students from initially securing a scene through to analysing materials and presenting evidence in a court of law. This allows students to understand the entire forensic science process as well as the responsibilities of the people involved.
The multidisciplinary nature of the course means that graduates will be able to apply their knowledge to a range of employment and entrepreneurship opportunities within or outside the forensic science area.
Opportunities to examine complex scenes in internal, external and international contexts exploring the use of 3D modelling, photography, and anthropology as methods of gathering forensic data.
Students will be able to assess simulated crime scenes in our crime scene houses, and other settings, and will then examine evidence in our biological and analytical laboratories applying relevant analytical and evaluation techniques.
From the integration of practical experiences in our state-of-the-art labs and simulated crime scenes, to the inspiration teaching by a range of subject experts, this course offers a great opportunity to immerse yourself in what it is to be a forensic scientist.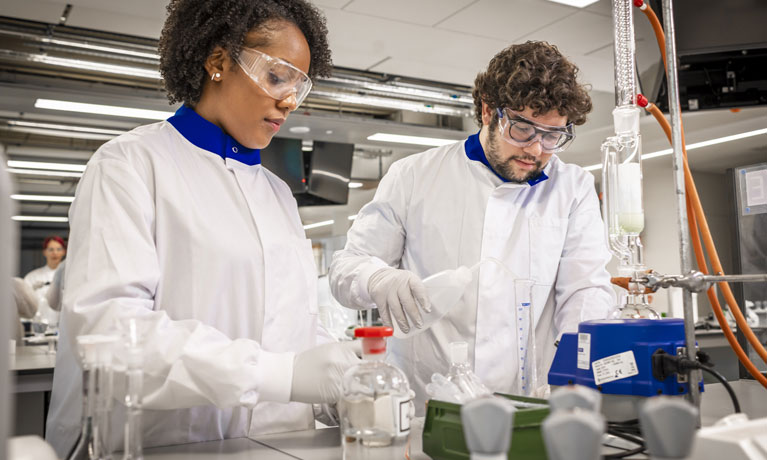 ---
Disclaimer

This is a new course for 2023-24 entry and the course content will be added shortly. Thank you for your patience.