Course code:
Study options:
3 years full-time
4 years sandwich
Location:
---
Get in touch
For questions regarding study and admissions please contact us:
A Finance degree from Coventry, with our dedicated Employment Personal Tutors could lead to a career in investment banking or City trading.
This specialist degree aims to provide you with the essential knowledge required to succeed in today's highly competitive and dynamic world of finance. BSc Finance is formally recognised as a CFA UK Investment Management Certificate (IMC) advantage programme. It covers many of the requirements of professional finance bodies, such as Chartered Insurance Institute (CII).
You'll explore the complexities and challenges facing today's world financial markets, examining critical issues like the impact of Brexit on financial markets (both UK and international), corporate governance issues, investment strategies in the view of global systemic risks and others, pertinent to our volatile global environment.
Coventry has excellent links with national and international employers, like PricewaterhouseCoopers (PwC), Grant Thornton, Ernst & Young, IBM and Jaguar Land Rover. Our teaching is grounded in the corporate world, using real-life international case studies and providing a range of exciting work placement options.
Why Coventry University?
An award-winning university, we are committed to providing our students with the best possible experience. We continue to invest in both our facilities and our innovative approach to education. Our students benefit from industry-relevant teaching, and resources and support designed to help them succeed. These range from our modern library and computing facilities to dedicated careers advice and our impressive Students' Union activities.
Global ready
An international outlook, with global opportunities
Employability
Career-ready graduates, with the skills to succeed
Teaching Excellence
Taught by lecturers who are experts in their field
Course essentials
A degree which offers you more, at no extra cost
Accreditation and Professional Recognition
This course is recognised by the following bodies:
Chartered Insurance Institute (CII)
This course provides exemptions from the Chartered Insurance Institute (CII).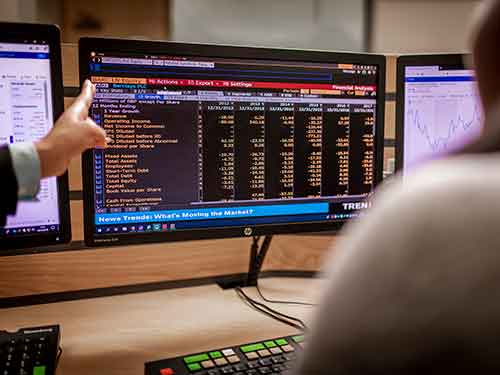 Students have opportunities to practice simulated trading and other finance-related activities using the various types of demo software available in the Trading Floor.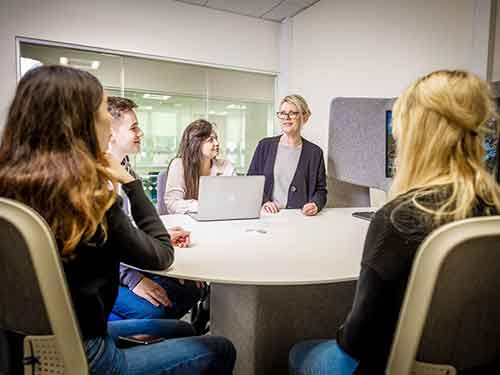 Coventry Business School's Business Simulation Suite utilises the latest business simulation software to give students the opportunity to improve their business skills.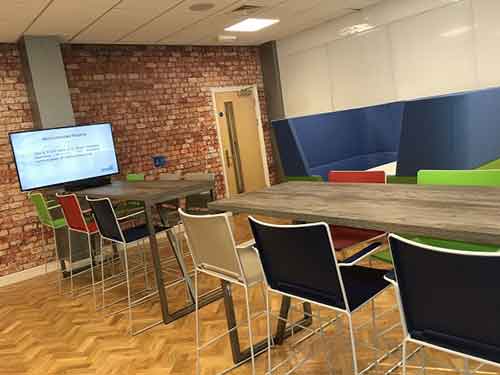 Designed to build creative minds, the DigiComm Lab is equipped with the latest industry-standard marketing and advertising software and devices to support your creative development.
The Finance degree is one of a suite of finance and accounting courses offered by the School of Economics, Finance and Accounting, which aim to develop analytical, numerical and financial skills, together with the personal and professional skills vital to the development of good financial professionals.
Course content is broad and incorporates various aspects of finance, economics and accounting. Subject areas include financial regulation, behavioural finance, financial derivatives and the economics of banking and finance.
92%
of our students are satisfied with the quality of the course
NSS, 2018
Modules
Overview
The first year covers the fundamental theories of personal finance, economics, financial accounting, statistics and mathematical techniques to unlock the basic principles of the discipline.

Successful students should gain an insight into the broader relationship between financial activity and the economy in micro and macro-economic topics, considering the important linkages within the environment in which the financial activity takes place. For example, we cover the impact fiscal policies have on businesses and stock markets, the monetary environment, macroeconomic stabilisation, exchange rates or the role of multinational corporations.

You should also develop your academic and IT skills and benefit from training in using spreadsheets and financial databases such as Bloomberg, Thomson Reuters Datastream, Thomson Reuters Eikon or Fitch Connect.
Modules
Mathematical Techniques for Finance

Fundamentals of Personal Finance

Financial Accounting Foundations

Statistical Analysis for Accountancy and Finance

Introduction to Business Economics

Academic and Professional Skills in Finance
Add+vantage
The focus on preparing students for successful futures sets Coventry apart as a university.
The Add+vantage modules teach a range of work experience and extra-curricular activities that are taken each year, and broaden students knowledge and skills within a work focused environment. There is a very wide range of Add+vantage free-choice subject areas, and they are arranged in themes.
Overview
The second year adds depth to theoretical and practical material covered in Year One. We will cover all aspects of the financing process including fundraising, investment appraisal, corporate decision making, risk management and financial regulation using practical examples.
Research skills are also taught in this year in preparation for a final year research project on a topic of your own choosing. In addition, we aim to cover current issues in banking and finance and financial regulation while your risk management skills should be developed by studying financial derivatives.
Modules
Principles of Financial Investment

Financial Regulation

Economics of Banking and Finance

Financial Derivatives

Research Skills

Choose 1 of the following:

Introduction to Econometrics
Financial Reporting and Analysis
Financial Services
Add+vantage
The focus on preparing students for successful futures sets Coventry apart as a university.
The Add+vantage modules teach a range of work experience and extra-curricular activities that are taken each year, and broaden students knowledge and skills within a work focused environment. There is a very wide range of Add+vantage free-choice subject areas, and they are arranged in themes.
Overview
After the second year, you have the option of taking a sandwich year on an industrial placement or spending 12 months studying abroad to broaden your international perspective.

Your dedicated Employment Personal Tutor (EPT) will provide support in finding and applying for a suitable placement and, in recent years, students have been placed with the likes of J.P. Morgan, Deutsche Bank, General Electric (GE), Deloittes, Microsoft, IBM, Jaguar Land Rover and the NHS, as well as positions with a large number of small firms based in the West Midlands. The placement provides an excellent opportunity to obtain appropriate discipline-specific work experience on a much more significant scale than vacation or part-time work.
Modules
Optional Placement

Study Abroad
Overview
In the final year, you will study specialist finance modules such as Investment Analysis, Portfolio Theory and International Finance. There is also the opportunity to focus on key areas of finance that interest you, such as banking or econometrics.

You will be required to write a dissertation; students often choose a specific contemporary issue of interest to them. Examples of topics in the past include event studies and efficient market hypothesis testing or corporate governance and sports finance.
Modules
Investment Analysis

Portfolio Management

Advanced Study for Accounting and Finance

Behavioural Finance

International Finance

Choose 1 of the following:

Applied Econometrics
Advanced Issues in Banking
Corporate Financial Management
Corporate Governance and Ethics
International Corporate Reporting
Insurance and Pensions
Add+vantage
The focus on preparing students for successful futures sets Coventry apart as a university.
The Add+vantage modules teach a range of work experience and extra-curricular activities that are taken each year, and broaden students knowledge and skills within a work focused environment. There is a very wide range of Add+vantage free-choice subject areas, and they are arranged in themes.
We regularly review our course content, to make it relevant and current for the benefit of our students. For these reasons, course modules may be updated.
15th
We are ranked as the 15th best University in the United Kingdom
Guardian University Guide 2020
Do you think you could cut it as an investment banker or City trader? Would you relish the challenge of overseeing multimillion pound portfolios? Are you interested in how financial markets operate? Our professionally recognised degree has been designed to teach skill sets used in careers in finance or investment. The nature and relevance of finance to all organisations, coupled with transferrable skills in creative problem solving and critical evaluation, are useful in a wide range of decision making roles.
We aim to deepen your understanding of financial decision-making, risk management and the behaviour of financial markets. We consider the governance of global enterprises and how finance shapes leadership, strategy and planning.
Throughout the course, teaching is designed to embed the professional skills required by business and finance sector employers, developing your specialist financial knowledge and bridging the gap between finance theory and practice.
We draw on actual case studies, innovative projects and use a range of practical exercises, such as trade games, portfolio creation and management, to simulate real-world financial practices. You'll have access to the largest academic trading floor in Europe, which provides hands-on experience of market leading financial databases and platforms, including Bloomberg, Thomson Reuters Eikon, Fitch Connect and DataStream, so you can practise making business decisions.
This course is formally recognised as a CFA UK Investment Management Certificate (IMC) advantage programme. Successful completion of this degree provides eligibility to apply for certain Chartered Insurance Institute (CII) exemptions as part of the prior learning award recognition CII has offered BSc Finance until December 2017. We also enjoy links with the Chartered Institute for Securities and Investment (CISI). Guest speakers have previously deliver sessions in topics such as commercial awareness, employability and working in the business sector.
Past students have undertaken placements and some students have gone on to work for prestigious companies including Microsoft, IBM, Tesco Graduate Scheme, Jaguar Land Rover and the NHS.
Designated Employment Personal Tutor (EPT) to work with you throughout your course to offer support and career guidance.
With around 5,000 students and 300 staff, Coventry Business School is one of the largest in Europe, rated as 'excellent' by Eduniversal.
Coventry Business School is an active member of the European Foundation for Management Development (EFMD) and Chartered Association of Business Schools (CABS).
Teaching benefits from research and insight from corporate partners, including the regulatory bodies and leading consultancies. Examples include Bloomberg and Fitch Connect.
High levels of student satisfaction for our Finance courses – 92% overall in the National Student Survey (NSS) 2018, 90% for the quality of teaching and 91% for academic support.
Impressive industrial placement opportunities, which have previously included: Lloyds Banking Group; Mattioli Woods (Pensions and Wealth Management); HM Treasury; Allianz Indonesia; PwC; The Boots Company; and Jaguar Land Rover.  
Opportunity for professional certification of key financial database skills. You will take the Bloomberg Market Concepts examinations during their first year. Students are expected to pass this assessment in accordance with Bloomberg set regulation. This can help assist students employability as trading floors around the world are reliant on Bloomberg technology.
Outstanding facilities include our Trading floor featuring 42 dual screen Bloomberg terminals.
Our main study themes are:
Investments: Covers relevant finance and investment concepts. Our aim is for you to learn about the function of capital markets, the trade-off between risk and return, how to price financial assets, how to combine different risky investments into a portfolio and the importance of the way a firm finances its operations.
Economics and business: Our aim is for you to learn how businesses operate within the external environment and the impact on finance of things like competition or overseas tax legislation on profit and loss.
Accounting and finance fundamentals: Our aim is for you to learn the basic principles, rationale and methods used in analysing, recoding, planning and managing accounts or finances.
Statistical analysis and quantitative methods: Our aim is for you to learn essential numeracy skills and analysis for financial reporting, forecasting and modelling, for example, evaluating how much debt a company can afford or the optimum percentage sales growth.
Markets: Our aim is for you to learn the development and operation of international markets for resources, goods and services, including considerations of: customers; customer expectations; service and market orientation.
This course is available on a three-year full-time basis or a four-year sandwich basis, where between Years Two and Three there is one year of supervised work experience or a 12-month period studying abroad.
Throughout your studies, your academic personal tutor (APT) will review and discuss your progress with you and will be available for advice.
We use a range of innovative practical exercises in a range of topics from investment finance, econometrics or financial derivatives. Wherever possible, we introduce professionally relevant coursework and experience. For example, during the first year, students will practice on the Bloomberg trading platform via our terminals in the trading floor and will be supported in acquiring a formal recognition such as the Bloomberg Market Concepts certificate.
As further examples, in the second year students have to complete a group coursework on a topic of current interest to the banking industry. As part of this, they take on a role as consultants who have been asked to complete a project for a client and are expected to present in front of a panel consisting of professional bankers and /or members of professional bodies, which requires them to carry out significant amounts of independent research.
You will be taught by lecturers with experience in practice and industry, many with active research interests in areas such as corporate governance, risk management, banking, stock markets and return on investments. They regularly bring contemporary practice into the classroom, for example, monitoring relevant news stories like Basel III, Brexit and the impact on financial markets, global event studies, major corporate governance issues and others, to stimulate debate and discussion.
Teaching methods include:<br> weekly lectures, small group seminars and tutorials.
This course will be assessed using a variety of methods which will could vary depending upon the module. Assessment methods include formal examinations, coursework, reports, essays, group work and presentations.
The Coventry University Group assessment strategy ensures that our courses are fairly assessed and allows us to monitor student progression towards the achieving the intended learning outcomes. Assessments may include exams, individual assignments or group work elements.
On successful completion, you should have knowledge of:
The core functions of the international financial markets and the impact of finance on businesses and the economy.
Contemporary finance theories and empirical evidence and their relevance and application to practical problems.
The importance of statutory and regulatory financial legislation and their impact on corporate governance structures and the wider business and economic environment.
The skills required to undertake an appropriate depth of analysis from undertaking research appropriate to their area of specialisation with the context of finance.
The skills required to assess and apply finance models and critically evaluate relevant qualitative and quantitative data in the areas of finance.
On successful completion, you should be able to:
Analyse and interpret financial data using appropriate statistical methods and present it informatively.
Communicate financial concepts, models and techniques in a clear and precise style through written and oral work.
Analyse and draw reasoned conclusions concerning structured and unstructured problems using information drawn from a range of financial sources.
Analyse and discuss contemporary issues in finance using appropriate financial principles.
Exhibit an understanding of research methodologies appropriate to undergraduate level study, formulate relevant finance orientated research questions and employ appropriate research methods.
Manipulate, treat, interpret and synthesise quantitative and qualitative data from a range of sources.
In a typical teaching week, you will have up to 14 'contact' hours of teaching. This generally breaks down as:
Personal tutorial/small group teaching: 2 hours of tutorials or, later, project supervision, each week.
Medium group teaching: 6 hours of practical classes, workshops or seminars each week.
Large group teaching: 6 hours of lectures each week.
In addition, you will be expected to undertake a further 22-24 hours of self-directed studying and revising in your own time each week, including some guided study using handouts, online activities etc.
You will have the opportunity to take part in a number of overseas field trips, some of which have previously been subsidised by the University. In the past, our students have visited universities in China and Malaysia to study alongside students, see how finance is taught internationally, appreciate the issues in different countries and broaden their perspectives. Optional field trips are available to countries including Malaysia, China, Spain and the Netherlands for all cohorts.
You also have the opportunity to study or work abroad and may be supported by schemes such as Erasmus, Marco Polo and Vasco da Gama. Students have previously participated in tax conferences in Belgium and Holland, where they engaged with students from different countries of the European Union.
Global ready
Did you know we help more students travel internationally than any other UK university according to data from the experts in higher education data and analysis, HESA?
In 2016/17, we were able to provide a total of 3,482 experiences abroad that lasted at least five days.

Much of this travel is made possible through our Global Leaders Programme, which enables students to prepare for the challenges of the global employment market, as well as strengthening and developing their broader personal and professional skills.
Explore our international experiences
1st for
international experiences
Sending more students overseas than any other UK uni (HESA 2016/17)
3,482
Student experiences
The number of student trips abroad for at least 5 days in 2016/17
21,000
and counting
The number of students we've helped travel internationally so far
12
global programmes
As well as trips, we offer other opportunities like language courses
Entry Requirements
University Course Code: BESU208
A Level
BTEC
IB Diploma
GCSE requirement

ABB

DDM

31 points

Minimum

5 GCSEs at grade A*-C including English at C, Mathematics at B, or specified equivalents.
A-Levels
A-Level applicants are required to have three
 A2 Levels. Coventry University may include AS grades within an offer for certain courses, but we are not able to accept two AS Levels in place of one A2 Level. In some courses it may be necessary for entrants to have passed specific A2 Levels in nominated subjects. Please see the course pages for more information.
Access Diplomas
The Access Diploma to include 30 Level 3 credits at Merit. Plus GCSE English Language at grade C and GCSE Mathematics at grade B, or specified equivalents.
Coventry University welcomes applicants who have completed, or who are studying, the Access to HE Diploma developed by the Quality Assurance Agency for Higher Education (QAA). Successful completion of the course will require you to gain 60 credits with at least 45 to be achieved at Level 3 (with the remainder at Level 2). In some cases we will require you to have gained Merit or Distinction grades in a number of units or in nominated subjects. For more information on the entry requirements for your chosen course please see the relevant course pages.
BTEC Level 3 Diplomas
The University will accept the BTEC Level 3 Extended Diploma for entry to most courses. In some cases we will require applicants to have studied either certain named modules or a specific named Diploma. The appropriate course page will have full information on the entry requirements. The University also accepts the BTEC Level 3 Subsidiary Diploma and BTEC Level 3 Diploma for entry to degree programmes, provided that they are studied in combination with other qualifications that provide a total volume of study that is equivalent to three A2 Levels. For example, you could be studying a BTEC Level 3 Diploma plus an A2 Level, or a BTEC Level 3 Subsidiary Diploma plus two A2 Levels. Where a specific A2 or BTEC subject is required for entry then you must be offering this as part of your combination of qualifications.
Please visit our page on European entry requirements for more information about specific country information.
Our International Student Hub offers information on entry requirements for your country, as well as contact details for agents and representatives should you need more advice.
More detail
Select your region to find detailed information about entry requirements:
Our International Student Hub offers information on entry requirements for your country, as well as contact details for agents and representatives should you need more advice.
More detail
Unconditional offers
We want to recruit the best students to Coventry and having assessed applicants' past, current and predicted performance and commitment to the course we feel that it is appropriate to reward consistently high-achieving students with an unconditional offer from Coventry University. It is a commitment from us with regard to an applicants' potential as an excellent undergraduate and we hope that this will encourage such applicants to join the Coventry community. Personal statements and references will also be taken into account and, for some degree courses, an interview will form part of the assessment. The criteria for unconditional offers will vary across the University as entry requirements for specific courses differ and not all degree courses will be taking part in the Scheme.
We will consider other qualifications for a pre-result unconditional offer providing that you have an appropriate proven performance at GCSE (or equivalent) level and predicted grades in line with grades that we expect to see at A-level. Other qualifications that we may consider for a pre-result unconditional offer include: The International Baccalaureate Diploma, BTEC Level 3 qualifications, Cambridge Pre-U and combinations of qualifications (e.g. BTECS plus A-levels).
An unconditional offer is what it says it is. So, if you don't meet your predictions then your place at Coventry is still guaranteed. However, we would hope and expect that you continue to work hard to make the most of your potential and be best prepared to study at university level.
We can't but our experience over the years has shown us that students with a track record of high grades and excellent predictions are very likely to achieve those grades. Our assessment takes into account all elements of your application to allow us to take a holistic view of your potential. There is also the opportunity to apply to one of the Coventry University Scholarships if you achieve the required grades so there is a financial incentive to aim high. Unconditional offers are only made to individuals who have demonstrated their commitment so we believe their focus and determination is unlikely to waver in the final stages of their qualifications.
No, the unconditional offer is only available to those who will take up their place in 2019.
Tuition Fees
We pride ourselves on offering competitive tuition fees which we review on an annual basis and offer a wide range of scholarships to support students with their studies. Course fees are calculated on the basis of what it costs to teach each course and we aim for total financial transparency.

For more information, please visit our Finance pages.
UK Scholarships
If you're a truly outstanding undergraduate candidate we may be able to offer you a Coventry University Scholarship.

Coventry University Scholarships are awarded to recognise truly exceptional sports achievement and academic excellence.
EU Scholarships
For the September 2019 intake we're investing in a range of EU Academic Excellence scholarships for high achieving and enterprising students. Fulfil your potential this academic year with Coventry University!
International Scholarships
For the September 2019 intake we're investing in a wide range of Academic Excellence scholarships for high achieving and enterprising international students. Fulfil your potential this academic year with Coventry University!
Course essentials at no extra cost
We're committed to communicating study costs clearly to make sure you're not faced with having to make any unexpected payments.
This is why our 'Flying Start' package provides you with a few course essentials. Your full-time fee for an undergraduate degree will cover the following:
UK field trips
Any mandatory site visits and trips within the United Kingdom.
Key material
This can include core textbooks, software and equipment.
Laser prints
1,000 A4 sides of black and white laser printing credits per year.
Optional year
Pay no tuition fees for optional work placements or study abroad trips.
The following are additional costs not included in the fees:
Any optional overseas field trips or visits: £400+ per trip.
EU student fees
EU nationals and their family members starting in the 2019/20 academic year remain eligible for the same fees as home students and the same financial support. Financial support comes from Student Finance England, and covers undergraduate and postgraduate study for the duration of their course, providing they meet the residency requirement.
For tuition fee loans
EU nationals must have resided in the European Economic Area (EEA) or Switzerland for the three years prior to the start of their course. The purpose of that three year residency should not have been mainly for the purpose of receiving full time education.
For maintenance loans
EU nationals must have resided in the UK and Islands for the five years prior to the start of their course. The purpose of that five year residency should not have been mainly for the purpose of receiving full time education.
Career prospects
Our close links with large financial companies help to ensure the course remains responsive to the need of sector. We aim to prepare you for a wide range of roles in almost any finance-related career, such as banking, investment analysis, insurance or financial regulation.
We also specifically aim to develop your professional skills and have a dedicated Employment Personal Tutor who will support your career applications and personal development through courses, skills workshops and one-to-one mentoring.
The strong vocational element and use of case studies should give you a good grounding of real business situations. There will be opportunities to learn a wide range of desirable professional skills, including: team working; critical evaluation; self-directed learning; problem-solving; action planning and organising; written and oral communication; presentation; questioning and listening. The following personal qualities will also be addressed in each of the skills modules: achievement orientation; initiative and creativity; self-confidence; decisiveness; reflectiveness; adaptability and flexibility.
Coventry University is committed to preparing you for your future career and giving you a competitive edge in the graduate job market. The University's Careers and Employability team provide a wide range of support services to help you plan and apply for your career.
Where our graduates work
Our graduates have progressed to careers across a wide spectrum of industry sectors, from banking, accounting and finance to manufacturing and sales. Alternatively, you could apply to continue your studies at postgraduate level to further enhance your employability. Here at Coventry, we offer the MSc Banking and Finance or MBA Finance, for example.
Disclaimer
By accepting your offer of a place and enrolling with us, a Student Contract will be formed between you and the University. A copy of the 19/20 Contract can be found here. The Contract details your rights and the obligations you will be bound by during your time as a student and contains the obligations that the University will owe to you. You should read the Contract before you accept an offer of a place and before you enrol at the University.
The University will charge the tuition fees that are stated on the course webpage and in the prospectus for the first year of study. The University will review tuition fees each year. For UK and EU students, if Parliament permit an increase in tuition fees, the University may increase fees for each subsequent year of study in line with any such changes. Note that any increase for UK and EU Students is expected to be in line with inflation. For international students, the University may increase fees for each subsequent year of study but such increases will be no more than 5% above inflation.