Go Study and Work in the EU with Erasmus
Erasmus is a European project that allows University students to take part in an exchange programme and provides funding to help support and encourage students to take part in this fantastic programme. For further information, download the following:
What can I do with Erasmus?
Study
Erasmus gives you the opportunity to study at a partner university for a full-academic year.
Spend between three months to twelve months in a university or enterprise in one of the 27 EU Member States
Students are eligible for a free language course of their choice with Linguae Mundi
Erasmus study is accredited by the University
Students who go away for a full academic year are exempt from paying their tuition fees.
Work
Erasmus gives you the opportunity to complete a work placement for a full-academic year.
The minimum allowed period for a placement is two months, or one academic term, and the maximum is 12 months
Study & Work
Combine the two programmes, allowing you to study for one semester and working for the other.
Get double the involvement by combining the programmes and experience both working and studying in a foreign country
Who can take part?
All students who have successfully completed 2 years at Coventry University can go on a year-abroad placement.
What we say
All 3 routes - Study, Work or Study & Work - on the Erasmus programme share the same benefits and will give you the opportunity to:
Learn a new language whilst abroad and receive free language courses prior to departure
Experience a new university culture including new teaching techniques and flexibility within modules
Improve your CV
Become a globally-aware graduate
Develop personally and professionally
Make new friends
Get paid to go abroad
What our students say
Without a doubt we would recommend to anyone to do an internship abroad as it gives you the chance to gain professional experience, learn about different culture, become independent and responsible and figure out what you enjoy doing in life.

Ivana and Alexandra, Erasmus Placement at AIM, Madrid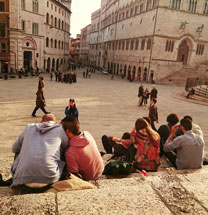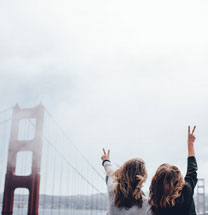 Support and funding
Erasmus is free to get involved and funding is given to students who go on the experience as an incentive.
Funding for study placements currently ranges from 250-300 euros, depending on the location and for working placements, it is 350-400 euros. The exact funding allocations for each country can be found on the official British Council Website.
Alongside this, you may also be able to recive financial support through our 'No Hidden Extras' grant.

Applying for Erasmus
To apply for any of the routes on the Erasmus programme visit our page on the CU student portal.