Research
The Faculty has a long and proud history of scientific contributions and research breakthroughs in several disciplines – from designing Jaguar Land Rover's first ever cruise control system to pioneering precision, computer-controlled laser treatment for cancer patients. Research is central to our mission to promote creativity, innovation and knowledge exchange. We have over 100 staff involved in research and benefit from an impressive record of research partnerships with commercial, academic and government organisations, offering a range of technology and science development opportunities for next-generation researchers or commercial collaboration.
Our research is proactively addressing key challenges facing the 21st-century world: identifying renewable and alternative energy; developing safer, smarter and 'greener' transport; combating the effects of climate change; and protecting communities and their environments. We are continually conceiving ever-smarter technology systems and inventing high performance and sustainable engineering, manufacturing, and construction methods and materials.
Research within the Faculty is organised into four over-arching specialist research centres, which are multidisciplinary and work collaboratively across the Faculty and wider University. Read about each of the research centres, our research strategy and discover some of our research successes. You can also learn more of the research impact being made throughout Coventry University.
---
Faculty Research Year in Review 2017
We are delighted to introduce this publication, the first Research Review for Coventry University's Faculty of Engineering, Environment and Computing.
Our research benefits from an impressive, ever-growing network of commercial, academic and government partnerships here in the UK, throughout Europe, and across the globe. We hope you enjoy reading more about some of the exciting projects we have undertaken in 2016/17.
Some highlights include:
We have invested a further £1 for every £1 external funding received
Total income awarded in 16/17 was over five times larger than 15/16
We have tripled the number of active Faculty researchers since 2014
Over 150 staff involved in research
77 phds awarded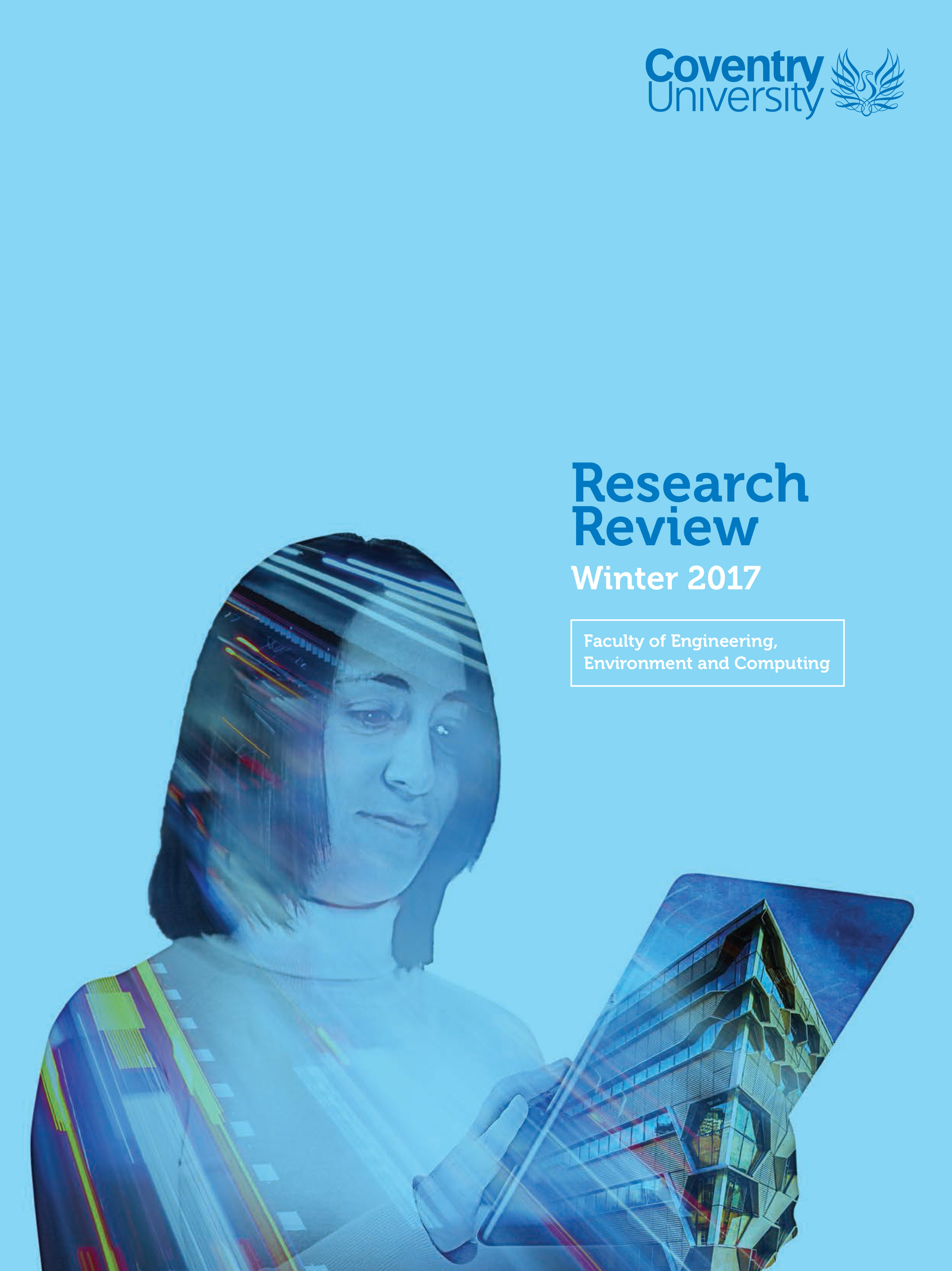 Reducing air pollution
Clean air is vital for the environment and our health: tens of thousands of people die prematurely in Britain every year due to poor air quality. Almost a quarter of global CO2 emissions (23 per cent) are generated by transport. Our researchers pioneered the design of an award-winning lean weight hydrogen fuel cell vehicle with zero emissions. A key partner of the Government's £400m 'Transport Carbon Reduction Delivery Plan', our spin-off company, Microcab Industries, released 10 vehicles for public hire purchase in 2013, two years ahead of the major companies. Worldwide, it is the only example of a hydrogen vehicle developed on a budget under £3 million for urban use only. Scotland has deployed the technology to explore if it could be an efficient storage solution for wind-generated energy and we are now collaborating with Lotus and Westfield to develop new electric vehicles.
Control engineering applied to radiotherapy
Our researchers have worked with the NHS and global medical technology companies to use control systems development in precision radiotherapy. This has underpinned the development of innovative equipment, which optimises the targeting of treatments to kill cancer cells within the body, minimising collateral damage to healthy cells.
The research, which predicts overall motion compensation in relation to the breathing of the patient during treatment, was used to evaluate the tracking ability of the cutting-edge VERO radiation machine from Brainlab/Mitsubishi.
Improving passenger safety in crashes
Our computer modelling and simulation of automotive and aerospace crashes means that passengers now travel in cars and aircraft made safer thanks to simulation advancements.
Research on pedestrian impact, vehicle roll-over, airbag deployment, adaptable vehicle structures and human body modelling has led to improvements to the MADYMO software suite, the industry standard for safety design and virtual crash testing, used by all the main equipment manufacturers. We also undertook the first successful modelling of helicopter rollover.