Facilities
Wind and smoke tunnels
Designing and modelling cars and planes is challenging but in the Faculty of Engineering, Environment and Computing you can test your concept to the limit. As a motorsport or aerospace student you will be a regular visitor to the Wind and Smoke Tunnels where models can be put through their paces in a Low Speed Wind Tunnel, Smoke Tunnel and even a Supersonic Tunnel, giving you the experience of working in a real project environment.
Low Speed Wind Tunnel
The closed return circuit tunnel is a crucial piece of equipment, enabling you to vary the air velocity in the test section between 6 and 52 metres per second. Automotive and other non-aero models can have drag, side and lift forces, pitch, roll and yaw movements measured and co-efficients from the data calculated.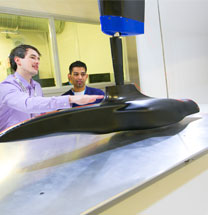 You can discover if your aerofoil design will really work – by using a TEM three component parallel motion beam balance in the tunnel to focus on the aerodynamic forces on your aerofoil, measuring its lift force, drag force and pitching movement.
Wind tunnel
Wind tunnel with an open jet working section was designed and supplied by Mercedes AMG PETRONAS Formula One team. It will accommodate 25% automotive models, and supply air at a maximum velocity of 45m/s with a six component balance to measure the induced aerodynamic forces.
Rapid prototyping and laser cutters
Coming up with great designs is one thing, but there's nothing to beat turning those visions into reality. That's precisely where we step in to help bring you bring your projects to life with our well-equipped Rapid Prototyping and Laser Cutters Workshop helping you develop your concept from drawing board to prototype.
The workshops have seen everything from sleighs and bikes to boat hulls be transformed from concept to 3D models and, from the start, you will be encouraged to take this practical approach to learning. You will make your project in an environment that nurtures a hands-on approach, enabling you to develop both your design and problem-solving skills.
You will have the opportunity to actually use the equipment yourself under supervision, rather than relying on technicians to do it for you.
You will be encouraged to:
learn traditional modelling skills with traditional materials;
operate CNC and rapid prototyping machinery;
adjust programmes in the information room.
The traditional modelling and rapid prototyping combines to give you a broad knowledge and experience. The traditional approach to modelling work is learnt before using the more technologically advanced equipment but the emphasis is very much on encouraging you to develop your own skills.
---
Lathes and CNC machinery
In the Mechanical, Aerospace and Automotive workshops you have the opportunity to learn everything from machine tooling to team building and teamwork to achieve the best possible results. You will be taught to use lathes and CNC machinery before heading to the workshop where the excitement really cranks up a gear.
One of the first things you will do is design a 1:10 scale model car, working with raw materials from scratch and overcoming manufacturing difficulties, trying to beat the often astounding results already achieved by your predecessors. What you can learn here can be taken on in future years in both the University and your career.
The workshop offers the opportunity to work on vehicles that are tested and used in competition. You will get involved in various motorsport projects and in your final year be offered a practical-based project with the chance to enter Formula Student – you can design and fabricate your own race car to compete against other universities.
You will also be able to work on a Group C Nissan car – one of only three in the world – capable of competing at Le Mans.
CNC machining centre
We have a modelling shop with rapid prototyping, CNC milling and laser cutting facilities and a facility and equipment for laser cutting and joining of metals. A six machine CNC cell, machining a variety of components from 2 axis turning to full 5 axis simultaneous machining. Full CAD/CAM integration to enable ease of translation from any CAD software to final product.
Metals workshop
Could you build a motorbike from the ground up? This is just one of the achievements of our students who have benefited from our comprehensive Metals Workshop. Traditionally, university workshops have been used by technical staff but under the Faculty's Activity Led Learning approach you will participate in a hands on way to give you a better understanding of the technical work involved in projects, which may give you an extra edge that could help you in your career. You can work with all materials, ranging from steels and alloys to plastics. Most students tend to use it in the Formula Student project, making everything from wheel hubs to suspension systems for their cars. You can also use the workshop to manufacture bodywork, chassis and even the petrol tanks for your racing car.
Our 270m2 metals workshop includes :
six centre lathes;
four milling machines;
fabrication equipment for sheet metal work;
three CNC machines;
a work area with benches and vices;
welding lines and a fitting assembly area.