What our students say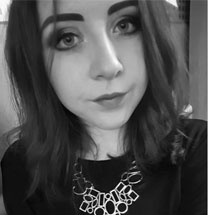 Evan Merner - Photography BA (Hons)
I was initially torn between studying Photography and English. I knew that photography had that extra creative element that appealed to me whilst at the same time there was enough theory that I could stay brushed up on my writing skills. Due to the course's reputation I was inclining towards Coventry before the open day, the open day 100% confirmed it for me.
I've been able to develop my darkroom skills, studio and lighting skills as well as skills outside of photography such as video and sound. Personally, my confidence has improved so much due to the necessity of working with other people as well as my networking skills. Recently I have really enjoyed the Art History lectures and my post-digital publishing module.
In first year we had a great trip to Ireland and got the chance to visit loads of galleries but more importantly, bond as a class. I've also recently had the chance to apply to study abroad in Madrid next year and this year we independently organised an exhibition and catwalk at Fargo, which was incredible.
Thomas Woodhouse - Media and Communications BA (Hons)
I chose my course because I'd always had a passion for the media industry from an early age, whether it be films, TV, journalism, marketing or advertising and my mum had always told me to do what I love and I think that's what really inspired me.
My course is one of the few in the country to mix both practical media production and theory in a 50/50 split, and that was ideal for both what I wanted to do whilst at university and my own personality.
The areas I enjoy the most about the course are the practical elements, whether that be sound and music production, documentary production or many other elements – although I love pretty much all the areas of my course! I've developed a huge amount of skills too, from learning social media marketing through my placement to editing and Photoshop skills to even written essay writing techniques.
I've particularly enjoyed using the media loan shop's GoPro's, I used one of these when I went to Poland to do a shoot and it was a godsend and also really really fun to shoot with! The lecturers are fantastic and get back to you as soon as you send an email pretty much!