Student Experience
Societies
In the School of Life Sciences the student experience extends past our teaching with the dedicated subject societies our students attend and even run!
Biomedical Science Society
If you want to excel in your studies and have fun while doing it, the Biomedical Science Society is the place for you. We're increasing integration between the different years with our social activities, including laser quest, pool and an annual trip abroad.
Find out more about memberships.
Courses - What our students say: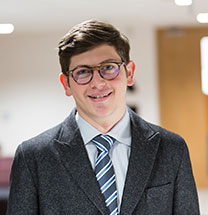 I am passionate about biological sciences so I wanted a course that allowed me to study a variety of areas within the subject, but where I could then get the chance to focus on the aspects I enjoyed most.
This course potentially allows me to choose any type of career I desire in the biomedical field, progress to postgraduate studies or find work once I graduate.
The teaching methods are extremely engaging, as the professors use different digital and online tools which make studying more interactive.
I also enjoy how much all the professors and tutors take care of the students' learning and keep track of their progress by using the Moodle online portal. The facilities available, like the library, are very welcoming and cope perfectly with students' different demands.
Studying at Coventry has definitely improved my professional and social skills by introducing me to the world of work through selection processes for industrial placements and projects like ParliaMentors, a leadership programme where students are mentored by MPs.
It has also provided me with the skills and knowledge required to proceed further onto postgraduate studies. This is thanks to the amount of practical work, the quality of teaching and the facilities provided. I would like to study medicine or take an MSc in Human Genetics or Cancer Biology after my graduation.
Coventry University is special because it has a really multicultural community, which is one of the main reasons why I wanted to study here. The university is well known for its dedication and commitment to students' education and employability.
I would tell people considering studying here that they should not to be afraid of leaving their home town or home country because it will pay off. I would advise them to study as hard as they can to succeed in their course and to take advantage of all the experiences provided by the university in order to develop their interpersonal network.
---
I really enjoyed reading and looking at biology textbooks as child and have always been fascinated by the opportunity to become a specialist in diagnosing human diseases and finding the treatment for them. I chose Coventry University as I liked approach this university takes to my course as well as great reputation. Even though this city is far from my home country of Lithuania, coming to study here has given me a chance to become more independent and self-reliant.
My course has been given me the opportunity to develop my skills and interests and meet new people that are interested in the same field as me.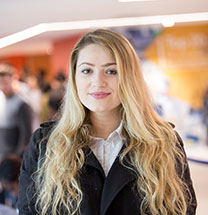 The teaching methods and facilities are very good at Coventry University. I like the structure of lectures and the methods that teachers use to make them more interesting. Also, the university staff are friendly and always ready to help us to face our problems.
I really enjoy the life on the campus as there are many places where you can relax after lectures. All the main shops, pubs and cafes are located right here, so close to where we are taught.
My degree has given me the chance to broaden my horizons by meeting so many people from all over the world. It has helped me to learn about different cultures and it develop my self-confidence. I met so many interesting people during my years at university, some of them have become my really close friends.
My advice for people considering studying at Coventry University is not to be shy and try all the opportunities that this university gives you.
---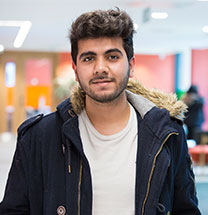 I chose this course because of my passion for sport. I have been playing sport since I was very young, but as I got older I wanted to understand more about the science behind it. This course covers all the different aspects that affect the performance of an athlete and fits in perfectly with what I wanted to learn about.
Coventry was my first choice university because of the atmosphere, the very welcoming faculty members, the facilities and its very high student satisfaction rate.
The teaching methods are very effective. After we are taught in the lecture, we are allowed time to go through it, and any doubts are cleared up in the tutorials. Coventry is a very modern university, and the campus is very lively. The entire atmosphere is very student friendly including the work stations, cafes, and even the IT facilities. All in all, I like being in the campus more than at my home!
While at university I have become more of a career oriented and self-conscious individual. I have learnt to accept different opinions, and to differentiate between the ones that matter, and the ones that don't.
My plan after completing my undergraduate degree is to look for a research placement, in order to obtain a PhD. I believe that if I work hard enough, and with the help of the resources here, I will be able to achieve what I want. I have met a few people on campus who have graduated from here and are now continuing their studies and doing what I would like to do in the future.
---
Placements - What our students say:
Serhan Khalid:
Analytical Chemistry & Forensic Science BSc
Placement: Maryland State Police Forensic Sciences Division (MSP-FSD)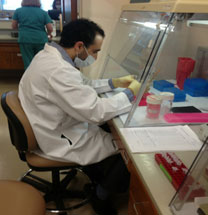 I came across this once in a lifetime opportunity towards the end of my second year with the help of the Employability and Placement Unit based in my Faculty. The division is the largest crime laboratory in the state - located in Pikesville, Maryland.
My role was varied with a lot of administrative work and observing DNA analysts on the job. I was involved in many important tasks including processing criminal information using the company's software, participating in mock trials and carrying out an experimental study for the division.
I had many highlights working as an intern but the most significant included observing a federal trial from start to finish. This required me travelling everyday into Washington D.C. and witnessing how the criminal justice system works in the USA.
Another memorable project was going on a "crime scene ride along" with the crime scene technician. This involved an alleged accidental shooting of a police officer in his cubicle. I observed the typical protocol and helped out with various measurements.
---
Xian Zheng Lee Marco:
Placement: Glen Dimplex Home Appliances
As a Food & Nutrition student, I wanted to gain extensive work experience that is related to my course and the industry that I could be going into. Originally from Hong Kong, I am familiar with the workplace culture back home, however, I really wanted to experience what it will be like to work in a UK company, which I found to be very different in many ways.
My short placement at Glen Dimplex Home Appliances (GDHA) was very interesting indeed.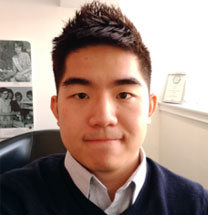 My team and I were in charge of the determination of fat and water contents in different samples of roast beef joints and chickens to assess the performance of different oven settings, which was part of the results collection for the previous year-long placement student at GDHA.
It was work that was done by my team and it was only for 2-3 days a week, so it wasn't too hard to juggle between that and my regular classes.
My manager and colleagues have taught me a lot about the different steps of handling a project, be it performance/benchmark testing of new products or the development of new technologies that could be implemented into current models, which I believe have strengthened my skills as a food scientist overall. I have also learnt a lot about the use of evidence-based research to support the development of products, having to design and carry out tests to prove how new technologies would work.
---
Aashna Sharma:
Placement(s): Coventry University and Freshwinds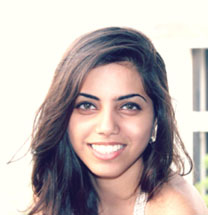 I decided to do a placement after attending presentations given by students who had previously undertaken yearlong placements. Listening to their experience motivated me to progress a career within the Financial Services industry.
I split my placement year between two organisations, working as a Student Employability Coach at Coventry University, and as a Research Assistant at Freshwinds.
As a Research Assistant at Freshwinds, I was not only involved with data evaluation and analysis, but also extended my responsibilities for the organisation by assisting in corporate networking with investors for the procurement of funds. These roles enabled me to develop excellent commercial awareness and understanding of industry trends, and gave me an insight into progressing a career within the financial services industry.
---