Student Experience
In the School of Art and Design the student experience extends past our teaching with the dedicated subject societies our students attend and even run!
Find out more about Student Life at Coventry University.
Architecture Society
We aim to provide support to all our members, increasing the creativity opportunities for everyone who loves architecture and design.
Events include skills workshops, design competitions, guest lecture series and more.
Find out more about memberships.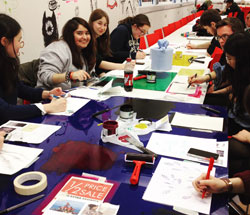 ---
Art Society
The Art Society is for anyone with an interest in art, no matter their abilities or level of knowledge or the degree you are studying – our members are studying art, photography, forensics and engineering to name a few!
We put on trips to art galleries – this year we went to see Fiona Banner at the Ikon gallery and last year we saw JMW Turner at Tate Britain.
We also put on workshops, such as printing, clay and drawing, and host life drawing classes – which are open to non-members. We offer our members the chance to present their work to others and get feedback.
Find out more about memberships.