Online Courses
Online language courses - All year round available 24/7 from any location in the world
Linguae Mundi and Transport Language online courses
Linguae Mundi courses are now accessible online and on mobile for both Android and iOS phones through Transparent Language, an exciting language-learning solution specially designed to assist language learners acquire a new language.
Transparent Language Online is a powerful, web-based application that provides a fun, engaging, and effective environment for language learning, accessible anytime, anywhere, from almost any computer or tablet.'Transparent Language Mobile' is the related mobile app which can be downloaded free of charge.
Linguae Mundi Online Courses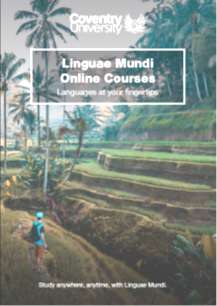 How will you benefit?
Over 100 languages to choose from at several levels
Fun content and easy to use layout
Flexible access from any location on phone, tablet, laptop or PC
Teaching in all 4 skills including reading, writing, listening, speaking and grammar
Detailed pronunciation practice and analysis through voice recognition technology
Research-based and experience driven methodology designed to help you acquire language quickly
Access language exercises and content 24/7
Online course free trial
You can trial the online learning software for free for 48 hours before enrolling.
Please register here for your free trial: Free Online Trial
Online course application form
Please register and pay here for full 3-month access for an online learning course. Once you have enrolled we will send your activation code to you: Please note refunds cannot be given once the software activation code has been used.