Arts and Humanities research centres to build world class lab for their experimental and innovative research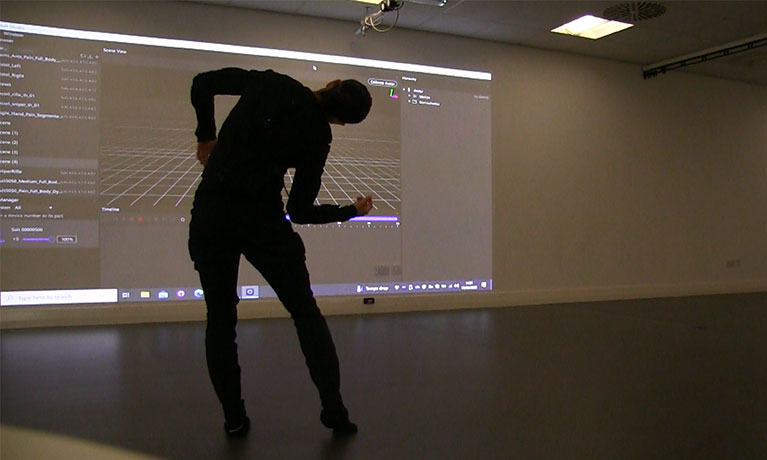 ---
Friday 16 June 2023
Press contact
---
Three research centres at Coventry University have received over £350,000 from United Kingdom Research and Innovation (UKRI) to develop their equipment and facilities. This important funding aims to support world-class research whilst improving the visibility and resilience of specialist creative and practice-based research.
The Centre for Arts, Memory and Communities (CAMC), Dance Research (C-DaRE) and the Centre for Postdigital Cultures (CPC) will work with local company, Coventry Biennial to redefine the university's ability to produce and display their work using newer forms of digital technologies to enhance performances and exhibitions as well as traditional practices and publications.
New motion capture and associated computing equipment will enable the creative community to take their research into choreographic coding and computer-generated dance to the next level. Similarly, improved projectors will enable digital artists to create and display their immersive works for both scholarly, critical, and the public's appreciation, reducing the current limitations on their artistic outputs.
The new facilities will increase capacity for practice research and support the centres' abilities to set up further collaborations with artists, start-up businesses, and the creative industries with residencies, secondments, and a public events programme. They could aid in the upskilling of creatives and communities through collaborative work to fuel both research and the Arts.
This investment will be transformative for our research across the Creative Cultures. It will enable us to make significant progress, particularly with respect to our cutting-edge collaborative practice-led research that incorporates sophisticated digital technologies, in performance, archiving, visual and screen-based arts.

Professor Sarah Whatley, Director for the Centre for Dance Research.
This award will enable us to extend and deepen our transdisciplinary collaborations with the cultural and creative sector, and with diverse communities regionally, nationally and internationally. It will enhance our ability to apply high-quality, practice-led research in the Arts and Humanities in order to offer solutions for societal challenges through experimentation with new digital technologies.

Professor Neil Forbes, Director of Creative Cultures research.
This is a very exciting time for research in the Creative Arts at Coventry University. The new equipment will support our research community and PhD students in their ground-breaking practice-led research by offering advanced media production capabilities. It will also help us deepen our engagement with the creative sector by making digital technologies more readily available to artists and cultural producers.

Dr Elpida Prasopoulou, Operations Manager of Creative Cultures research theme.
The funds will also support the creation of new research looking into harnessing the power of arts and humanities to tackle the challenges of a changing world and creating inclusive environments by offering new ways to conduct and share research.