University-led digital data tracking research project is shortlisted for innovation award by national privacy organisation - PICCASO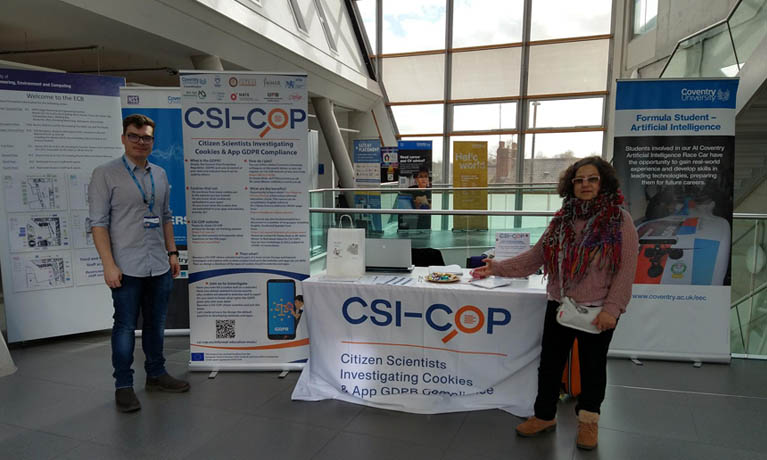 ---
Thursday 20 October 2022
Press contact
---
A leading online data privacy initiative led by Coventry University has been shortlisted in the 'Best Innovative Privacy Project', category in the Privacy, InfoSec, Culture, Change, Awareness, Societal, Organisation (PICCASO) Awards, which recognises pioneering contributions made to the privacy and data protection sector.
The EU Horizon2020 funded 'Citizen Scientists Investigating Cookies and App GDPR Compliance' (CSI-COP) project is made up of ten international collaborators, who look to engage citizens from across the globe to investigate how personal or 'user data' is tracked by visiting websites and using apps.
User data is incredibly valuable and is often shared between third parties, including data brokers, and sometimes sold to advertisers who target users with related products and services based on previous browsing activities. The Coventry University CSI-COP team, based within the Centre for Computational Science and Mathematical Modelling, not only seeks to educate internet users on how tracking technology works, but also raises awareness of online privacy issues.
The PICASSO shortlist recognises the team behind CSI-COP who are actively helping to change the perception and reality of privacy. Their shortlisting falls alongside including PwC, Nokia and the Information Commissioner's Office (ICO).
Assistant Professor, Dr. Huma Shah, Centre for Computational Science and Mathematical Modelling, and CSI-COP science lead said:
It is important that people know when it is appropriate to give personal data away online and be fully informed about who will have access to that personal data, particularly if they are parents and the data concerns their children.

CSI-COP is delivering a public service on how to protect our online privacy.
As part of the CSI-COP team's commitment to keeping members of the public's personal data safe, they have delivered data privacy educational workshops across Europe and Israel. The concluding event will take place in Brussels, inviting privacy champions who have completed the free 'Your Right to Privacy Online' course to present at the event, speaking on their experiences of online tracking.
---
Discover more about the Centre for Computational Science and Mathematical Modelling.
Find out more information on venues and dates for these forthcoming activities will be placed on the CSI-COP news page.
Discover CSI-COP's newsletters.
This project is funded by EU Horizon2020 grant agreement 873169.