Showcasing latest transport innovations at the UK's largest Low Carbon Vehicle event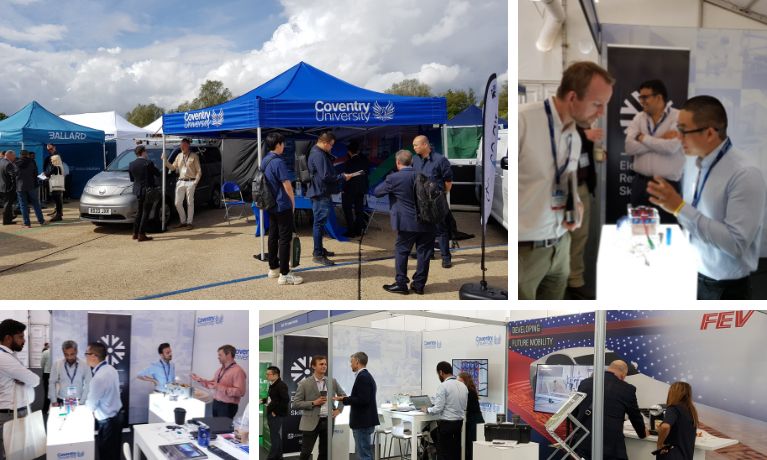 ---
Tuesday 11 October 2022
Press contact
---
Coventry University researchers exhibited their latest transport related innovations at one of the industry's leading Low Carbon Vehicle (LCV) and Connected Automated Mobility (CAM) events. Cenex-LCV and Cenex CAM is one of the UK's most established technology and networking exhibitions and takes place every year.
A number of LCV and CAM products and research led innovations designed by university experts for use by the automotive industry to electrify transport and reduce carbon emissions were taken to the event:
Staff from the university's Research Centre for E-Mobility and Clean Growth shared a stand with their industry partner FEV, a global engineering consultancy that is helping to shape the future of the mobility sector for carbon-neutral, efficient, connected, and safe transportation.
The two-day exhibition (7 and 8 September) took place at UTAC, a specialist vehicle proving ground designed for emerging technologies focused on automated, connected and electric vehicles. Visitors to the stand learned about the following transport related innovations.
FEV showcased their research and development into low carbon powertrains. This included a Toshiba 48V car battery model with long-life, rapid-charging battery cell technology; a hydrogen engine piston from FEV's hydrogen engine which is a robust, cost-efficient option for zero carbon future transport and a diesel piston from FEV's lightweight diesel engine which boosts efficiency and helps to reduce CO2 emissions.
Cenex CAM also had an external demonstration area and the university's Centre for Connected and Autonomous Automotive Research (a collaboration with the world-famous HORIBA MIRA) had a self-driving vehicle on show. The car, a Nissan e-NV200, boasts a whole host of connectivity, sensing and monitoring technologies including LIDAR (light detection and ranging), Infra-red, machine vision and RADAR (radio detection and ranging).
The Cenex LCV and Cenex CAM event brought together academic expertise and state-of-the-art innovations, demonstrating how researchers and industry can work together on the science and engineering, bringing to the forefront the next generation of electrified propulsion systems for the automotive, aerospace, marine and rail industries.
Cenex LCV and Cenex CAM is the perfect opportunity to showcase how our latest innovations works to realise future transport technology by engaging with industry as we look to achieve net zero by linking research and skills in connectivity and automation, with e-mobility and energy storage.

Kevin Vincent, Director of the Centre for Connected and Autonomous Automotive Research
Cenex LCV is such an important event for us, allowing us to showcase our research to industry. This year I talked to organisations about research innovations, the EV skills gap and opportunities to collaborate. By working together we can address these challenges and make the UK more attractive for industrial investment.

Rohit Bhagat, Director of the Centre for E-Mobility and Clean Growth
Find out more about Coventry University's exhibits at Cenex LCV and the research that underpins the university's transport innovations.
Find out more about the Centre for Connected and Autonomous Automotive Research and the Centre for E-Mobility and Clean Growth.