Coventry University designs the customer experience at a first-of-its-kind urban airport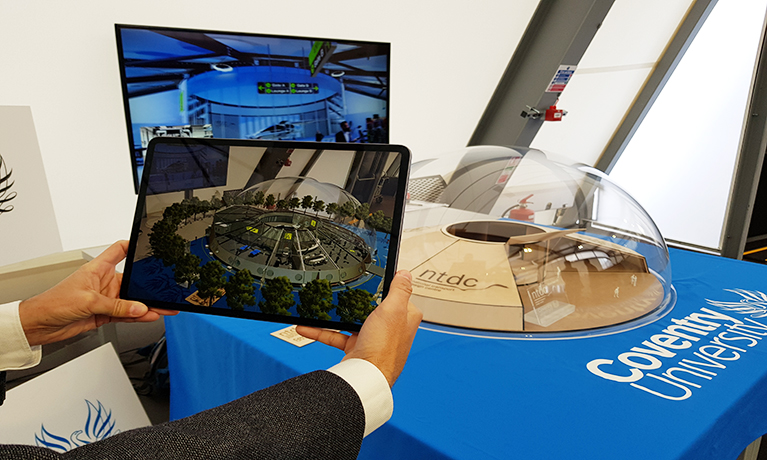 ---
Wednesday 27 April 2022
Press contact
---
Coventry University has spearheaded and crafted the customer experience design of a world-first urban air transport hub.
Air One is the first fully-operational hub for electric vertical take-off and landing vehicles (eVTOL) – such as air taxis and autonomous delivery drones – and has been unveiled in Coventry city centre, during Coventry's landmark term as the UK's City of Culture.
Led by British start-up company Urban-Air Port Ltd, Air One will demonstrate the potential of what advanced air mobility and travel could look like in the future. The initiative aims to decarbonise transport, cut air pollution and congestion, and deliver seamless passenger journeys and deliveries of goods.
Coventry University's National Transport Design Centre (NTDC), which is part of the Centre for Future Transport and Cities, used advanced augmented and virtual reality techniques to create and perfect a simulation of how the airport should look, feel and function for customers. As part of the set-up, members of the public were invited to the NTDC to sample the Air One in virtual reality, and provide feedback on their experiences to help shape the overall customer experience.
Transport design expert at the NTDC, Professor Stewart Birrell, who led on the project, focused the design of the Air One customer journey on being easy to navigate, ensuring accessibility for all and making it a pleasure to use. This has been achieved through effective signage to help with wayfinding and by minimising typical 'pain-points' such as check-in procedures to reduce the stressful elements of travel.
Professor Stewart Birrell also wanted to elevate the most exciting parts of the travelling experience, so the design includes a 180-degree glass façade that enables passengers to instantly gain a view through to the flying and autonomous vehicles upon arrival.
We are delighted to have teamed up with Urban-Air Port and Coventry City Council to help facilitate this hugely exciting and innovative future transport project. The chance to utilise our expertise in user-centred design to help shape the Air One design customer experience is something that we have relished. The anticipation and excitement is huge as the Air One is finally unveiled.

Professor Stewart Birrell, Professor of Human Factors for Future Transport at Coventry University's National Transport Design Centre.
The opening of Air-One is a momentous moment – the starting gun for a new age of transport, an age of zero-emission, congestion-free travel between and within cities that will make us healthier, happier and more connected than ever before.

Ricky Sandhu, Founder and Executive Chairman of Urban-Air Port®
British innovation has a rich history of transforming global transportation, from the creation of the railroads in the 1800s, to the growth of great British brands such as Jaguar, Triumph and Rover in Coventry in the 1950s.

With the opening of Air-One®, Coventry is once again playing host to the next chapter in that history – the beginning of a new age of transport that puts Global Britain at the vanguard of clean transport, bringing investment, jobs and export potential, and supporting the re-birth of the midlands as a hotbed of innovation – levelling up in action.

Grant Shapps, Secretary of State for Transport
Air One in Coventry will provide a blueprint for more than 200 vertiports planned worldwide by Urban-Air Port® over the next five years to meet expected growing demand and Coventry University will continue working with Urban Air Port® to further public understanding and acceptance of the new technology for the future of travel.
Members of the public can now experience Air One for themselves with free tours which are running from 28 April – 15 June.
Find out more about Coventry University's National Transport Design Centre, part of the Centre for Future Transport and Cities.