Sarah Brill wins Coventry University 'Three Minute Thesis' Competition 2022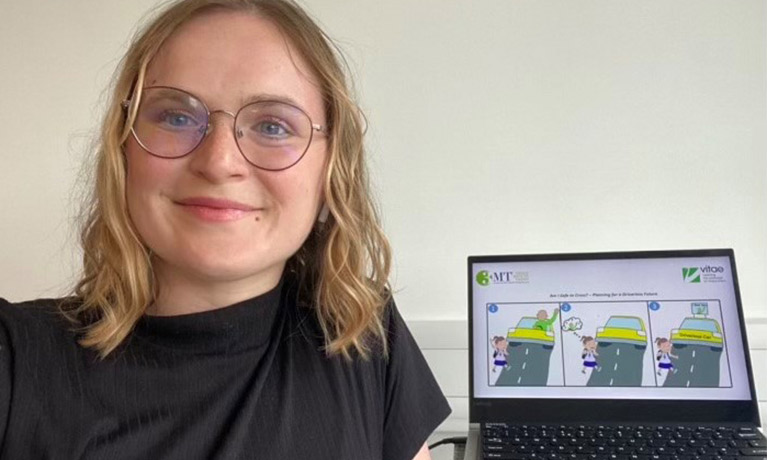 ---
Monday 08 August 2022
Press contact
---
Sarah Brill, a PhD candidate from the Centre for Future Transport and Cities (FTC), has won the Coventry University 'Three Minute Thesis' (3MT®) competition for 2022.
The 3MT® competition invites postgraduate researchers (PGRs) to give a compelling spoken presentation on their PhD topics and the significance of their research in just three minutes. The competition is organised by the university's Doctoral College and Centre for Research Capability and Development. A select panel of judges consider the comprehension and content of the presentations, as well as quality of engagement and communication. Out of 10 finalists, Sarah was chosen as this year's winner.
Her quick-fire presentation, entitled 'Am I Safe to Cross? – Planning for a Driverless Future', introduced some of the positive impacts that driverless vehicles can bring. The aim of her research is to identify a way in which the vehicles can communicate with pedestrians and signal to them that it is safe to cross the road.
Winning the 3MT was an honour and I look forward to representing Coventry at the national competition. I hope this experience will garner interest in my research into pedestrian and cyclist interaction with automated vehicles, and how external human-machine interfaces could be a solution to increasing their trust and acceptance.

Sarah Brill, PhD candidate, Centre for Future Transport and Cities
I was delighted to see Sarah win the 3MT award, her research to better understand how vulnerable road users interact with future driverless cars is essential to increase trust and acceptance of these vehicles. Sarah clearly and concisely presented the challenges and opportunities in her research, which will prove invaluable for her PhD ahead.

Professor Stewart Birrell, Professor of Transport Design, Centre for Growth and Future Mobility and supervisor of Sarah Brill
Sarah's Abstract

When crossing the road, how important is interaction with a car driver in your decision making? What if there was no driver? Research suggests that automated vehicles (AVs) will make the road safer but a lack of human driver may alarm pedestrians and cyclists (ie vulnerable road users (VRUs)). This distrust can create problematic scenarios particularly in shared spaces, where VRUs have little separation from AVs. Studies have suggested replacing face-to-face communication between drivers and VRUs with a mechanism to indicate the vehicle's intention, or an external human machine interface (eHMI), may improve AV-VRU interactions. In this review, current gaps in the literature, including unexplored interactions between AVs and VRUs plus the best practice for eHMI communication and design, are presented. Additionally, I will investigate the expectations of AVs from a VRU perspective which will allow for safe and widespread implementation of AVs into shared spaces.
Find out more about PhD Opportunities at Coventry University.
Additional notes
The 3MT® concept was initially developed by the University of Queensland, and has evolved into a number of national competitions in countries across the globe.