New Centre for Dance Research video reflects on connections between dance, artificial intelligence and ethics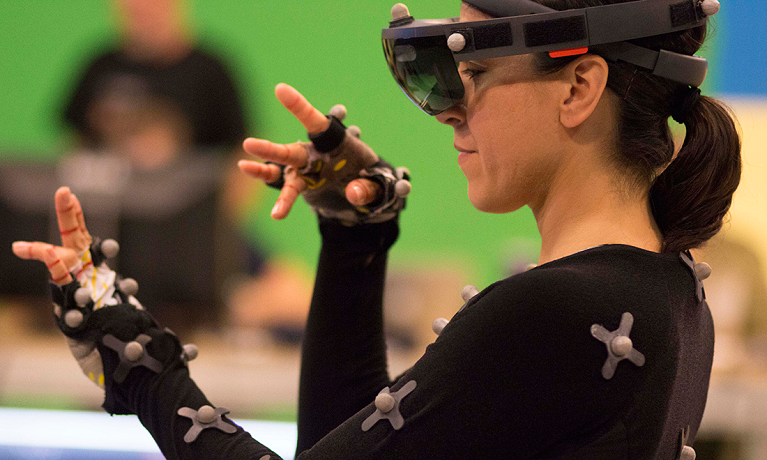 ---
Thursday 18 February 2021
Press contact
---
Some forms of Artificial Intelligence (AI) are so engrained into aspects of everyday life, from real time navigation to searching the web, that we hardly notice them. But what about AI that can personalise fitness routines, and recognise individual gestures? The body "datafication" (or the process of turning the body into data) involved in the development of these applications raises new-found ethical concerns related to issues such as algorithmic bias and data privacy.
The Centre for Dance Research (C-DaRE) has been working innovatively at the intersection of dance and digital technology for a number of years, and is beginning to expand its research towards novel considerations of what dance can offer to AI and ethics in relation to the body.
One of the centre's recent research collaborations, WhoLoDancE, experimented with the use of AI technology to teach a computer to recognise and interpret the bodily movements of a dancer. The goal was to prototype new technologies to support the learning and teaching of dance.
In a new video, Professor Sarah Whatley (C-DaRE Executive Director), Dr Rosa Cisneros, Dr Daniel Bisig and Professor Scott deLahunta come together to explore some of the questions inspired by their dancer-machine interactions that took place during the WhoLoDance project. Their discussions focus on the technological challenges, the benefits of interdisciplinary collaboration, and potential concerns about some of the ethics involved.
Going into the future, C-DaRE are looking to develop new lines of enquiry with researchers in social science, movement and computing, and critical disability studies, in order to continue critical conversations around the connections between dance, AI and ethics.
We want to ask the question: what might embodied knowledge contribute to the creation of ethical practices in AI development? And how can this be informed from the perspective of bodies that are different? These lines of enquiry will enable us to support and work alongside technology developers to help make their practices more inclusive.

Professor Scott deLahunta, Centre for Dance Research
Contact the team at C-DaRE.
Find out more about the Centre for Dance Research.