Coventry University part of groundbreaking initiative to install world's first pop-up airport in heart of the city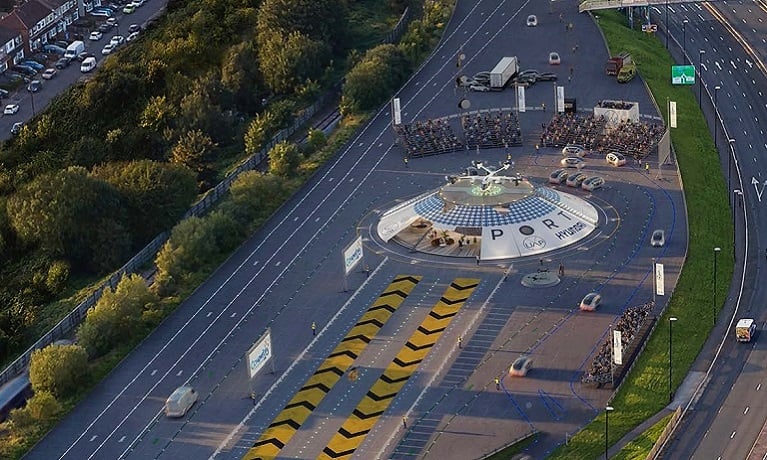 ---
Tuesday 02 February 2021
Press contact
---
Researchers from Coventry University are working with a consortium headed by Urban-Air Port Ltd to design and implement the world's smallest airport with no runway in Coventry by the end of 2021.
With involvement from Hyundai Motor Group, Coventry City Council and Malloy Aeronautics, the Air-One project, funded with a £1.2m UK Government grant, will see the launch of the UK's first eVTOL (electric Vertical Take-Off and Landing) hub.
The Urban-Air Port (also known as a 'Vertiport') will enable eVTOL vehicle flight with a view to demonstrating the effectiveness of this mode of transport in boosting national transport connectivity, tying in closely with the UK government's decarbonisation aims. The Urban-Air Port would be able to support a variety of use-cases, including air taxis and autonomous delivery drones.
The university's research contribution will focus on understanding the customer journey and assessing the infrastructure design according to disaster management and physical security concerns. This draws upon the expertise in user-centric design at the Institute for Future Transport and Cities (IFTC)'s National Transport Design Centre and will be critical to ensuring the successful commercialisation of the Urban-Air Port. Researchers from IFTC will be engaging with stakeholders and developing Virtual Reality (VR) experiences to demonstrate how the transport hub will look and operate when functional.
Experts from the university's Faculty for Engineering, Environment and Computing will look to secure public confidence and ensure compliance with relevant legislation. They will review disaster management best practice and work with project partners to influence the design of the facility to maximise the Urban-Air Port's capabilities and effectiveness in the increasingly important sector of disaster relief.
The team at NTDC are delighted that we can contribute to the Air-One project in collaboration with world leaders in future mobility solutions. As the sole university and research partner on the project, Coventry University's expertise in transport design will help design and inform the passenger experience from arrival, check-in and loading. Our advanced visualisation capability enables us to develop a Mixed Reality (MR) experience using VR and physical prototypes to better understand users' interaction with this futuristic and novel transport modality.

The project will also bolster Coventry's positioning as a transport innovation hub, reflecting the city's historical links to the transport sector and ensuring that it will continue to play a significant role in years to come. The opportunity to showcase this in the same year as the City of Culture Programme is particularly welcome.

Transport Design Professor Stewart Birrell (the university's lead for Air-One)
About IFTC: The Institute for Future Transport and Cities develops pioneering mobility solutions. From accelerating the progression towards zero-carbon transport and developing inclusive design practices to ensuring the safe implementation of autonomous transport solutions, IFTC is central to solving global mobility challenges. IFTC works closely with industry to ensure that its research has real-world applications, maintaining close relationships with leading businesses within the transport sector.
About the NTDC: The National Transport Design Centre focuses on disruptive transport solutions, integrating its approach with the important development of sustainable transport, Connected and Autonomous Vehicles (CAVs) and shared mobility. It operates in a cross-disciplinary manner, bringing together designers, Human Factors specialists, psychologists and technologists, to support research into a variety of fields.