University honours a lifetime of success for LEP's automotive all-star
Friday 24 November 2017
Press contact
---
An automotive all-star who led Jaguar and the Volkswagen Group in America before chairing the Coventry and Warwickshire Local Enterprise Partnership has received an honorary degree from Coventry University.
Jonathan Browning was given an honorary doctorate in Business Administration on Friday (November 24) in recognition of his significant contribution to the global automotive industry.
During his international career, Jonathan has worked as CEO of Volkswagen Group in America, played a central role at Ford and worked with brands and businesses all over the world.
He joined the CWLEP after returning to live in Warwickshire and, as chairman, has played a key role in driving up the area's economic performance and has been instrumental in establishing the West Midlands Combined Authority.
Jonathan, 58 was born in Taunton in Somerset and studied Industrial Economics at Nottingham University before travelling to America to complete an MBA at Duke University.
His career has since spanned the breadth of the automotive industry and taken him to work in Turkey, Switzerland, Germany, America and various parts of the UK.
Jonathan went on to serve as vice-president of General Motors Europe and chairman of Vauxhall Motors – a position he held from 2005 to 2008.
He took over global direction for the Volkswagen Group's National Sales Companies in 2010, and was made president and CEO of Volkswagen Group of America from this time for three years until 2013.
Twice, in 2011 and 2012, Jonathan was recognised as an automotive 'All-Star' by Automotive News, and is a globally-recognised figure in the industry.
He was appointed to his current position as chairman of the CWLEP in 2014, and has a lifelong love of sport. He is currently a board director of British Cycling.
Jonathan said:
"I am very flattered to be given this degree. I have had a really rewarding career with some great companies. It has allowed me to work across the world in a fascinating industry.

I returned to Coventry and Warwickshire after working in America and was keen to put something back into the area I very much regard as home and in my time with the CWLEP, we have been able to make a tangible contribution to the local economy."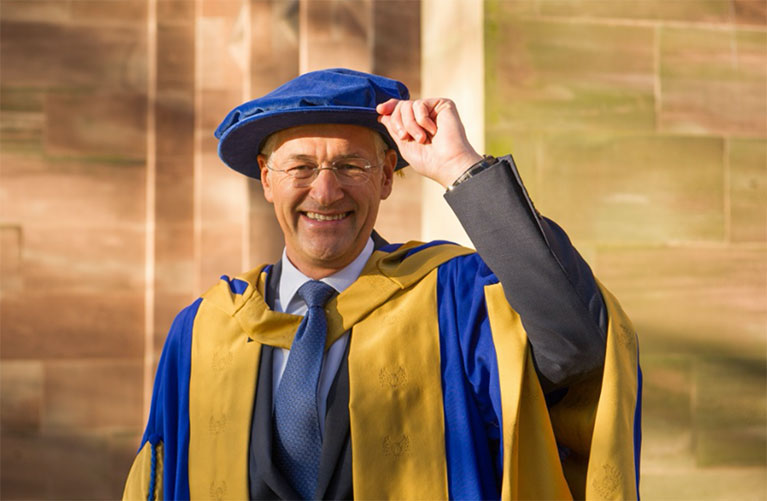 Image: Jonathan Browning
---
For further press information, please contact Hannah Smith, press officer at Coventry University, on +44 (0)24 7765 8352 or at hannah.smith@coventry.ac.uk.