UNESCO's outgoing director general honoured for unprecedented work on peace
Wednesday 22 November 2017
Press contact
---
UNESCO's outgoing director general spoke of the need for wider and more focused education to promote cultural differences as she received an honorary degree from Coventry University.
Irina Bokova was made an honorary doctor of arts on Tuesday in recognition of her outstanding contribution to peace, equality and human rights internationally, just weeks after stepping down from her leading role as a peacemaker across the world.
The honour also celebrated Coventry University's close relationship with the global peace organisation for which it offers official advice on humanitarian engineering and intercultural dialogue.
Irina became the first female director general of UNESCO in 2009 and spent the next eight years prioritising work on youth radicalisation, advocating freedom of expression and striving for wider education across the world.
This month the organisation's new director general, Audrey Azoulay was appointed after being nominated by UNESCO's executive board in October.
Receiving her award on Tuesday, Irina spoke of her time at UNESCO, its work to promote teaching of culture and heritage, and of educating young people on the importance of intercultural dialogue across the world.
She said:
"I am very happy to be here in Coventry, and this wonderful cathedral both new and old which is very symbolic of peace and reconciliation.

As I step down after eight years from UNESCO, I really believe with everything that's happening in the world today, intercultural dialogue is even more relevant than ever before

What I am passionate about is that we must inject this culture and importance of culture into the curriculum. The wonderful thing about higher education, and what I am struck by here in Coventry with such diversity, is that these are the places where we can promote that dialogue and students can learn from each other about so many ways of life. It is so important.

Perhaps before, it was easier for someone to say 'I can tolerate another culture and tradition' because it was somewhere else. But now we have to interact with our neighbour and that is why processes such as BAKU and UNESCO's work with Coventry University are becoming so much more relevant.

I think many young people have different or multiple identities and can be many different things, which is very powerful in promoting this dialogue. For me, I am Bulgarian, but also a citizen of Europe, and of the world, and I think people should feel comfortable in saying that and being a citizen of the world."
Born in Sofia, Bulgaria in July, 1952 Irina studied at the Moscow State Institute of International Relations, and later, the John F. Kennedy School of Government at Harvard University.
She went on to hold various foreign affairs positions in government including as a diplomat, ambassador and adviser. She was twice elected as Member of Parliament and was the Government's first Secretary of European integration.
In 2009 Irina was appointed Director-General of UNESCO becoming the first woman - and Eastern European – in the role. She was reappointed in 2013 and has in that time played a key role in the drive to promote mutual understanding and tolerance in an unprecedented period of cultural conflict.
Irina has also served as Executive Secretary of the Steering Committee of the UN Secretary-General's Global Education First Initiative, and is chair of the UN High Level Committee on Management.
She is actively engaged in international efforts to advance education, gender equality, security, and protection of cultural heritage; and campaigns to counter radicalisation and prevent violent extremism and discrimination.
Irina, who lives in Paris with her husband and two children, has actively supported the Baku Process, the global initiative to promote dialogue between cultures, working to deepen a sense of solidarity and cooperation.
In 2016 she was named on the Forbes List of The World's Most Powerful Women.
For Coventry, Irina supports the University's Centre for Trust, Peace and Social Relations (CTPSR) which has been a collaborator and partner with UNESCO since it launched in 2014.
Professor Mike Hardy, Executive Director of the CTPSR said:
"It is no surprise that Coventry University would recognise the lengthy and widespread contributions of Irina Bokova.

Her personal drive to highlight to importance of culture and heritage for peace has been legendary. Under her leadership, UNESCO has stepped up its focus on education, science and cultural relationships to maintain and promote a peaceful world.

This is city of peace and reconciliation and we have committed huge energy to applied research in peace building with strong support and partnerships with UNESCO and Irina through her role as director general.

We have become an academic centre for intecultural dialogue something Irina is incredibly passionate about and are honoured to have been able to work so closely with her on this during her leadership."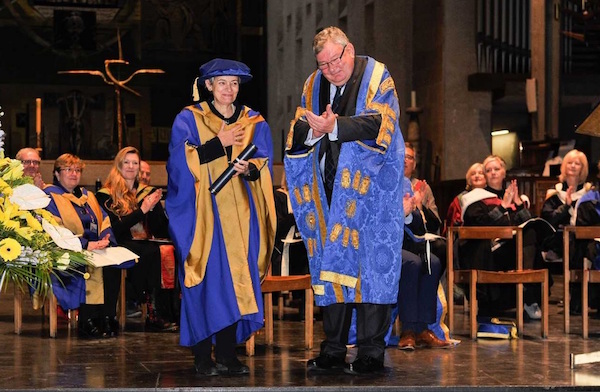 Image: Irina Bokova receiving her honorary doctorate.
---
For further press information, please contact Hannah Smith, press officer at Coventry University, on +44 (0)24 7765 8352 or at hannah.smith@coventry.ac.uk.