Topping out takes place at the UK's first 'Faculty on the Factory Floor'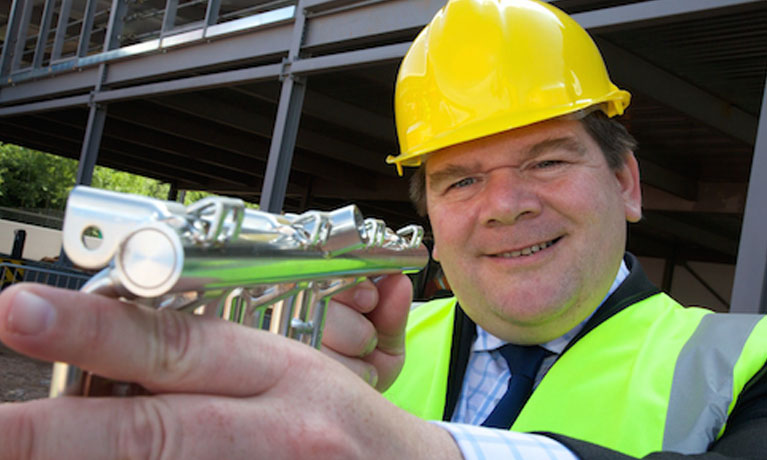 ---
Wednesday 09 July 2014
Press contact
---
The new £32m+ Institute for Advanced Manufacturing and Engineering (AME) took another major step forward this week, when the final part of the roof was put into place at its dedicated manufacturing hub in the West Midlands.
Director Carl Perrin joined Coventry University graduates, who trialled a project designed on the AME experience, to mark the next stage of construction and reaffirmed his commitment to ensuring a new higher education model for manufacturing degrees.
The Chartered Engineer believes the UK's first 'Faculty on the Factory Floor' has the potential to revolutionise STEM education by utilising closer links between academia and industry and allowing students to apply their learning direct to 'live' manufacturing projects.
The first cohort of 30 undergraduate and postgraduate students will arrive later this year and benefit from a unique blend of innovative activity-led learning in core engineering skills and product development.
They will also have access to R&D projects focused on delivering the next generation of powertrain technologies for aerospace, automotive, energy, oil and gas, and rail.
Dr Perrin said:
Numerous economic reports have detailed the need to design new ways of tackling the skills shortage. Our approach will ensure that we have graduates who can make an immediate impact when they leave education.

What we hope to do at AME is develop industry ready graduates that have core engineering skills, have trained on the latest machinery and, importantly, have experience of what it is like working on 'live' manufacturing projects. The latter gives them the chance to learn about teamwork, communication and managing situations when things don't go to plan.

The 'topping out' of the manufacturing hub is an important milestone. People can now see things moving forward and there is something tangible to show students, customers, suppliers and funders when they visit.

The next stage is to lay the concrete base and then the mezzanine flooring, following by the side cladding and the 3 metre long panes of glass that will create the striking frontage.

We expect the keys to be handed over mid October, with the internal fit-out and machines to be installed early November.
The 'Faculty on the Factory Floor', which is being built by the Lindum Group, will initially house over 1700 metres squared of dedicated manufacturing, learning and laboratory space.
It will be equipped with more than £2m of state-of-the machinery, including the latest robots, CNC tube manipulation, high-pressure test rigs and metrology equipment.
Respected professors, researchers and industry professionals will use the facility to educate students in metrology, manufacturing systems, mechanical systems and design.
They will also be able to access a four-strong robotics training line that allows learners to write programmes and then see how small robots perform the complex operations.
Dr Perrin continued:
Not only do we want to provide industry-ready graduates, but we also want to future proof them so they are learning techniques and using technologies that are cutting edge and will be around for years to come.

This gives them the ideal opportunity to accelerate their career progression and gives companies access to staff that will have the most impact on their business both in the short and long-term.
AME – a collaboration between Coventry University and Unipart Manufacturing – is in the process of securing two new research projects focused on developing new fuel rail systems and improving the speed of the new product design cycle.
Once complete, the research will be used across Unipart, its supply chain and in helping UK industry compete in the global powertrain marketplace.
Dr Perrin concluded:
It's an exciting time. The roof of the building is complete, we've experienced a surge of interest from potential students and our new website – www.ame.co.uk

–

is now live.

We're keen for people to join the conversation so have also launched on Twitter @ame_uk and on Facebook.
For further information, please contact Russ Cockburn on 07812 600271 or email russ@dc-pr.co.uk.