Breaking ground as construction starts on the Institute for Advanced Manufacturing and Engineering
University news / Business news
---
Monday 14 April 2014
Press contact
---
The Institute for Advanced Manufacturing and Engineering (AME) has taken a major step forward today, with work now underway on the construction of the UK's first dedicated 'faculty on the factory floor'.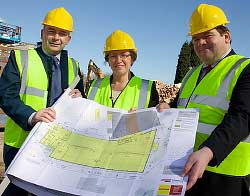 Senior figures from Coventry University and Unipart donned their high-visibility jackets and hard hats to take part in the groundbreaking ceremony at the manufacturing firm's Beresford Avenue site in Coventry.
It marks the start of a six-month construction project by Lindum Group, which will create a 1700 square metre state-of the-art manufacturing and R&D space for training 90+ undergraduates and postgraduates in the first three years.
To mark the ceremony, new institute director Dr Carl Perrin also announced a commitment to spend over £2m on robotic automation, forming, joining, analysis and simulation, metrology and product verification technology.
Dr Perrin said:
AME is set to pioneer a new higher education model for manufacturing degrees, offering a blend of innovative activity-led teaching, product development and research to create a unique learning environment.

Our dedicated facility is absolutely key to this and a lot of time has been taken in shaping the design and layout to ensure we create a world class manufacturing and engineering environment that inspires the next generation of engineers.

Construction has now started and will be completed by the end of Autumn, ready for us to welcome our first cohort of students.

Breaking ground is an important milestone for the initiative. There has been a lot of talk about our vision, but now we can start to see something tangible being built and that can only help to get the message out there.
The Institute for Advanced Manufacturing and Engineering is a joint £32m collaboration between Coventry University and Unipart.
Its aim is to develop the next generation of highly skilled, specialist engineers and operational leaders by providing students with direct access to Unipart's operations, allowing them to work on 'live' issues in a real world manufacturing production environment.
All of the courses have been shaped by leading minds in academia and industry, with a particular focus on design, metrology, manufacturing and mechanical systems.
Carl, who previously worked at Rolls-Royce and Dana Glacier Vandervell, continued:
Another element of AME will be our focus on accelerating the next generation of fuel systems and powertrains for the transport sector.

We have already secured a number of research projects and this will give our students a fantastic opportunity to play their part in developing processes and technologies that will help make 'moving around' quieter, cleaner and more efficient.

Over time this will involve disseminating our research for the benefit of Unipart customers, suppliers and the wider UK manufacturing base.
Unipart Manufacturing Group managing director Carol Burke and John Latham, vice-chancellor of Coventry University, joined Carl at the groundbreaking ceremony.
The duo played a major role in developing the AME and securing the backing required to turn the vision into a reality.
For further information, please contact Russ Cockburn on 07812 600271 or email russ@dc-pr.co.uk.