Students vote Coventry University to top spot for modern unis in region

University news / Student news
---
Thursday 27 September 2012
Press contact
---
Levels of student satisfaction at Coventry University have risen for the fourth consecutive year in the National Student Survey 2012, which is published today (September 27th).

The new results see Coventry ranked in the top five of modern universities in England for student satisfaction – ahead of all its key local modern university competitors.

Coventry's overall score increased to 86% of students who are satisfied with the quality of their course, up from 85% in 2011. The University does particularly well in the teaching quality category, with 90% of students surveyed agreeing that tutors and lecturers are "enthusiastic about what they are teaching" and are "good at explaining things".

The University is also in the top 10 in England for the quality of assessment and feedback which it gives to students, and it scores highly for the organisation and management of courses.

Another area in which the University scores strongly is for personal development – which measures how students feel their skills and confidence have improved while studying – with an 86% satisfaction rating placing it second overall for universities in the UK. Students also rated its facilities and learning resources highly.

According to the survey, which in 2011 was completed by 265,000 students around the UK, Coventry University is now classed in the top 10 of modern universities in the UK for every category, and also retains its number one modern university ranking in the Midlands.

One of the University's best-performing faculties in the survey is the Faculty of Engineering and Computing, whose Department of Mechanical and Automotive Engineering registered 92% student satisfaction ratings for teaching quality.

Melanie Philips, 21, who graduated from the BEng (Hons) Mechanical Engineering course this summer, took part in the survey earlier this year – she is now working as a metrology engineer for Derbyshire-based manufacturing specialists Plastic Omnium Automotive Exteriors.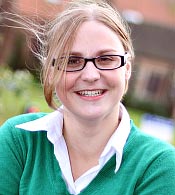 Melanie said:


Many of the lecturers at Coventry University have a background in industry, so the range of knowledge meant there was always someone that could answer your questions. I found the teaching staff to be helpful and truly enthusiastic about their subjects, and the facilities available at the university were also very good and readily accessible – particularly the 24-hour computer rooms which were invaluable for a late push to complete coursework before end of year deadlines!
Commenting on the results of the survey, Vice-Chancellor Professor Madeleine Atkins said:
Today's students are more discerning than ever about the value for money offered by university courses, so we are delighted to see that our undergraduates continue to rate their satisfaction levels so highly.

We're particularly pleased that Coventry University ranks amongst the best in the country on attributes such as teaching and personal development. Our staff have worked incredibly hard to ensure we provide a high-quality learning experience for students and an array of work placement opportunities to build their confidence and give them the best preparation for graduate-level employment.

Further to that, the University's strong ratings in the 'learning resources' category are being boosted by the new buildings on our campus, particularly the Hub and our just-opened £55m Engineering and Computing building. It goes to show that our continued investment in the latest facilities and technologies is putting Coventry on course to make its student experience the best in the UK.
Coventry University's final two open days of the year will take place on October 27th and November 10th 2012, giving students and their parents a chance to explore the campus and learn more about the courses available. To book a place, visit our open days page.