Nursing students demonstrate clinical skills in city centre – complete with hospital bed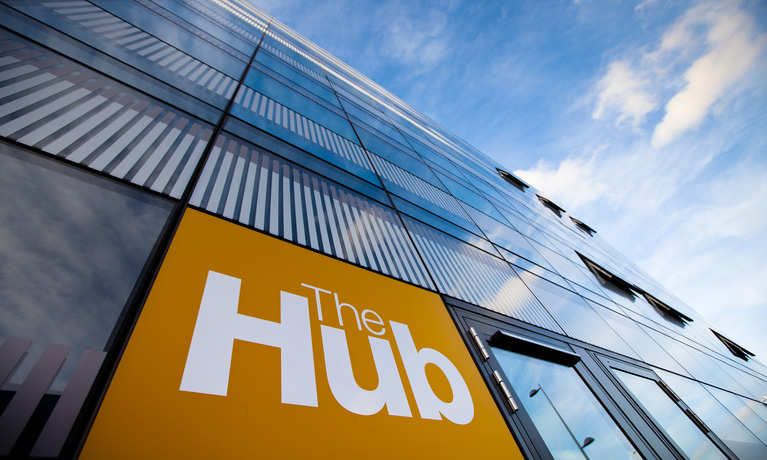 ---
Wednesday 15 August 2018
Press contact
---
Nursing students will demonstrate their clinical skills and first aid training today (Wednesday 15th August) when they bring mock patients and a hospital bed to a Coventry shopping precinct.
The Coventry University students and staff are hoping to catch the eye of members of the public by transporting their hands-on training methods out of the classroom and into the city centre.
Occupational therapy and physiotherapy students and staff will also be showing off some of their more unusual training techniques, including how they use the game Connect 4 to improve patients' hand and finger co-ordination.
It all takes place as thousands of young people across the country will be thinking about future careers as A-level results are released tomorrow (Thursday). Many will face the prospect of going through clearing to secure a university course of their choice.
The event is part of a nationwide campaign run by Health Education England (HEE) to encourage more people to think about pursuing a career in nursing or allied health professions, such as physiotherapy and occupational therapy.
Among staff on the day will be clinical skills lecturer Ray Graham who swapped his painting and decorating job for one in nursing aged 50 before later becoming a lecturer, proving it's never too late to change your career.
The campaign to inspire the next generation of health professionals comes amid NHS staff shortages and as applications to study nursing and health subjects at university have dropped since the Government removed bursaries for these courses.
At the same time, the government has increased the number of places available to study nursing at university.
The HEE #KnowAboutNursing campaign aims to highlight the benefits of studying a degree in these subjects, including employability, the flexibility of being able to work anywhere in the country and the chance to make a difference to people's lives.
All of Coventry University's nursing, midwifery and physiotherapy graduates secure jobs within six months of completing their degrees, according to the latest figures available from the Destinations of Leavers from Higher Education survey.
At the event today staff and students will be showcasing some of the training they normally do within the university's state-of-the-art Alison Gingell building. The building houses a range of innovative healthcare simulation facilities, including an ambulance, hospital wards, intensive care and operating theatre.
Trainee nurses will be demonstrating their first aid and CPR skills.
Occupational therapy students will be highlighting how giant Jenga, board games and hand splints can improve people's gross and fine motor skills, as well as their quality of life.
Physiotherapy students will be demonstrating how they learn to carry out cardio-respiratory checks as well as showing the bagging and suction techniques used to help improve patients' breathing.
Passers-by are welcome to stop and chat to the staff and students in the Bull Yard, Coventry, from 8am until midday to find out more about the campaign, courses and careers. They will able to take part in some of the activities as well.
Clinical skills lecturer Ray Graham will be among the university staff at the event. He said:
It was always at the back of my mind that I wanted to be a nurse, even though I had a good job as a painter and decorator and earned a good wage. I got to the point in my life where my wife said just give it a go. I graduated with a degree in nursing at the age of 50 and have never looked back. I'm definitely an example that it's never too late to follow your dream and become a nurse.
Nursing is a fantastic career, there is a real camaraderie. It's also one of the few degrees where you're almost guaranteed to get a job when you graduate. We know the students we are teaching will be on hospital wards very soon, making a difference to patients and their families.
Second year adult nursing student Josh Price said:
Our nursing course is really interactive and hands-on. The practical skills sessions prepare you well for your placements and career. When you arrive at a hospital for the first time, you're ready for action and can be useful straight away.
I'd advise anyone interested in a career in nursing or other health professions to come and talk to people who are doing it and make use of an opportunity like today. Our tutors are so passionate and helpful, speaking to them is a great way to find out more about the course.
Guy Daly, the university's pro-vice-chancellor for health and life sciences, said:
Recruitment to our health profession courses remains buoyant even though, with the removal of NHS bursaries, universities across England – including Coventry - have seen a drop in a 20 to 25 per cent drop in applications to nursing and health courses. For Coventry, that has meant that we now have 7 or 8 applications for each place where we used to have on average 10 applications per place.
In fact we're planning to launch further mental health nursing and children and young person nursing courses starting in January/February 2019.
What we need to ensure, and part of the reason for today's activities, is that people are aware that the health professions remain great careers. Everyone recognises the value of the NHS and with these degrees you will always be employable and be able to make a real difference to people's lives. There's a fantastic opportunity for career progression; for example, you can go from a staff nurse all the way up to the director of nursing.
Inspire me
2nd in UK for Teaching Excellence Framework (TEF)
Times Higher Education – June 2017
---
Game on
97% employed or in further study six months after graduation
DLHE – 2016/17
---
Hello world
We send more students overseas than any other UK university
HESA 2016/17