Students help make a difference at charity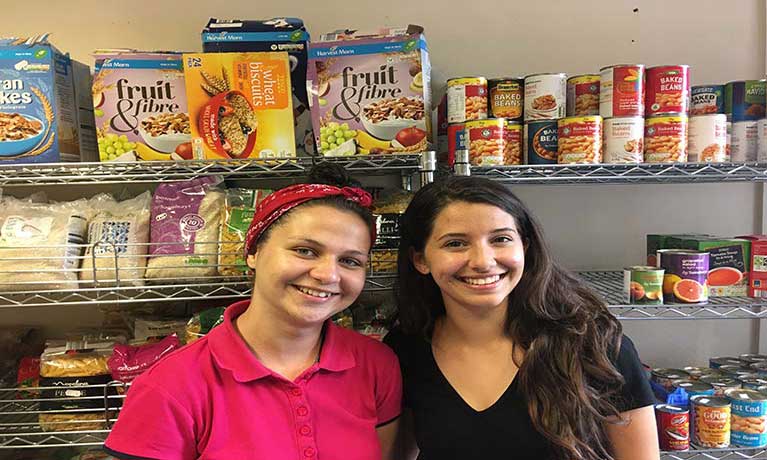 ---
Wednesday 08 August 2018
Press contact
---
Students have helped at a food bank, gardening project, dog show and social events for older people as they support a Leicester charity throughout the summer.
Every year Coventry University places occupational therapy students with B-Inspired, which has a network of community projects in Braunstone that aims to improve life for local residents.
It gives the students the opportunity to work with people in the area and encourage them to take part in activities to improve their health and wellbeing.
The busy charity benefits from the occupational therapy students' knowledge and support in the community schemes it runs.
The students gain vital experience of using their skills in the real world and understanding more about how they can make a difference in the community.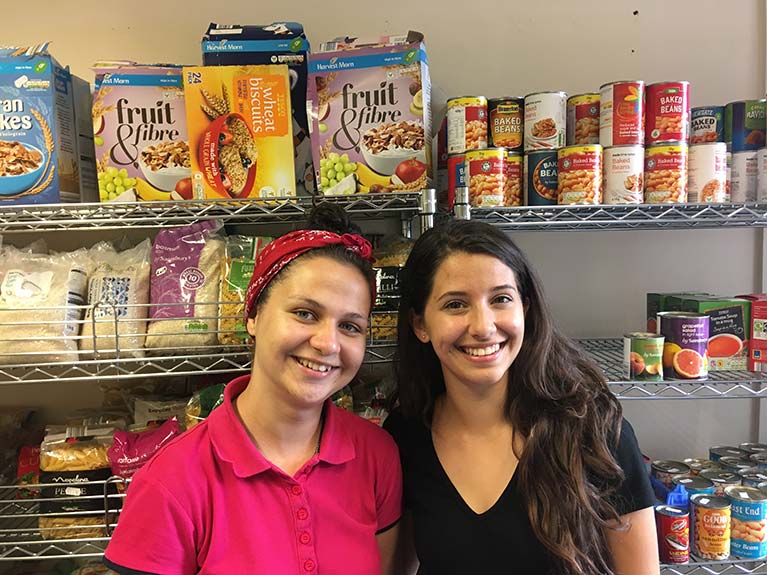 Occupational therapy students Ivana Grech and Claudianne Attard at B-Inspired's food bank.
This summer two occupational therapy students, who are both from Malta, are helping out at the charity.
So far they have been working in B-Inspired's busy foodbank, in Wellinger Way, and have supported Talk Time sessions, which give people aged over 55 a chance to meet and take part in different activities.
They have also been involved in a community growing project, worked at a children's treasure trail activity and helped organise the Bark in the Park event in Braunstone Park last month.
Occupational therapy student Claudianne Attard, said:
It's all aimed at giving back to the community. We've encouraged people to talk to each other at social sessions and help them build friendships. It's great experience for us to work with local residents like this."
Fellow student Ivana Grech added:
We've really enjoyed our time here – and feel part of this community.
As well as helping with activities, we've been analysing them to understand how these all these different projects get people involved. We can give the charity the evidence to show that what they do is making a difference to people's lives.
Ali Gamble, a volunteer support worker at B-Inspired, said:
The students are always a lot more than just an extra pair of hands to us. They bring a fresh pair of eyes to what we do. It's great to have these young, enthusiastic people helping us out, giving us new ideas based on what they have learnt through their course.
---
For further press information, please contact Alison Martin, press officer, Coventry University, on 02477659752 or email alison.martin@coventry.ac.uk
---
Inspire me
2nd in UK for Teaching Excellence Framework (TEF)
Times Higher Education – June 2017
---
Game on
97% employed or in further study six months after graduation
DLHE – 2016/17
---
Hello world
We send more students overseas than any other UK university
HESA 2016/17