Student defies disability to achieve her dreams and help others
---
Wednesday 01 August 2018
Press contact
---
A Coventry University student is showing that a disability won't stop her achieving her dreams as she battles a rare medical condition to retrain and help make a difference.
Karen Bucknall came to Coventry University through clearing last year in hope of waving goodbye to her life as a holiday rep and starting a new life helping others.
Deciding on the police force, the then 47-year-old decided to get a criminology and sociology degree and work her way up the ranks after being told a minor eye abnormality meant she wasn't fit to walk the beat as a constable.
But soon after starting her course her world began to change as the problem was diagnosed as early stages of myasthenia gravis, a condition which now affects her whole body, leaving her with muscle weakness in her face and neck, double vision and breathing difficulties.
Often referred to as the rag doll illness, myasthenia affects thousands of people in the UK. The condition causes muscle weakness, commonly in the eyes and face before spreading to other parts of the body. It can be brought under control with medication although in some circumstances can be fatal.
As well as having a benign brain tumour Karen can now only eat soft foods and takes up to 14 tablets each day to manage the condition.
But far from letting it affect her studies, she has completed her first year, become a course representative, and is even finding time to train teaching English as a foreign language - with fresh plans to work in the charity sector once she graduates.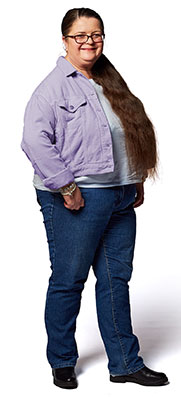 Karen, who lives in Acocks Green and previously spent 30 years working in the tourism industry, said:
I had quite a different first year of university to most students. A year ago I was really struggling, I failed my police medical and had no idea that the problem in my eye would be diagnosed as something so major.

The condition now affects my whole body, I sometimes go completely floppy and get very fatigued easily. But it can be managed so I have some very good days as well as bad ones.

The hospital staff are helping get me into remission so I can live a fairly normal life again and thanks to the Myaware charity's counselling and support groups I know I'm not alone.

The thing is there is no way of knowing how bad it will get, I could end up in a wheelchair or on a breathing ventilator so I don't want to miss out on any opportunity while I can.

I have had to rethink a lot in the last few months and now I know that instead of policing, I want to go into teaching or work with a charity. I've learnt not to feel sorry for myself or let anything get in my way. I want to be an inspirational figure for others and help.

I came though clearing as studying was a last minute decision, but it turned out to be the best thing I ever did. I always made excuses that I was too old or not bright enough to get a degree, but now I'm 48 and I am finally making it happen.

I want to show that nothing has to hold you back. I absolutely love my course and all the support I get. Everything's fallen into place as if I was always meant to be here.
---
For further press information, please contact Hannah Smith, press officer at Coventry University, on +44 (0)24 7765 8352 or at hannah.smith@coventry.ac.uk.
---
Inspire me
2nd in UK for Teaching Excellence Framework (TEF)
Times Higher Education – June 2017
---
Game on
97% employed or in further study six months after graduation
DLHE – 2016/17
---
Hello world
We send more students overseas than any other UK university
HESA 2016/17