Hydrogen showcase is a "flag in the sand" for West Midlands' low carbon credentials
University news / Business news / Alumni news
---
Tuesday 16 October 2018
Press contact
---
An EU-backed event in Coventry this week is set to showcase the latest developments in hydrogen fuel cell cars, including those designed and built in the city at Coventry University spin-out Microcab.
The event at the university's engineering and computing facility heralds the end of a four-year European Commission-funded trial which put dozens of fuel cell vehicles – including Microcabs – into the hands of real users on roads around the Midlands and mainland Europe.
Microcab will also be giving a sneak peek of its new hydrogen-powered model – on which it has collaborated with German automotive giant MAHLE – alongside fuel cell vehicles from Toyota and Riversimple.
Hydrogen fuel cell-powered cars differ from pure electric vehicles in that they can be filled up in a matter of seconds – much like with petrol – and typically have ranges to match conventional combustion engine cars.
Fuel cells like the one powering the Microcab combine hydrogen from the pump with oxygen from the air to create electricity (which drives the car's electric motors) and water (the car's only emission) in a reverse electrolysis reaction.
There are currently two hydrogen refuelling stations in the Midlands – at the universities of Coventry and Birmingham – and 13 across the UK, though the Department for Transport has recently pledged over £30 million to improve infrastructure.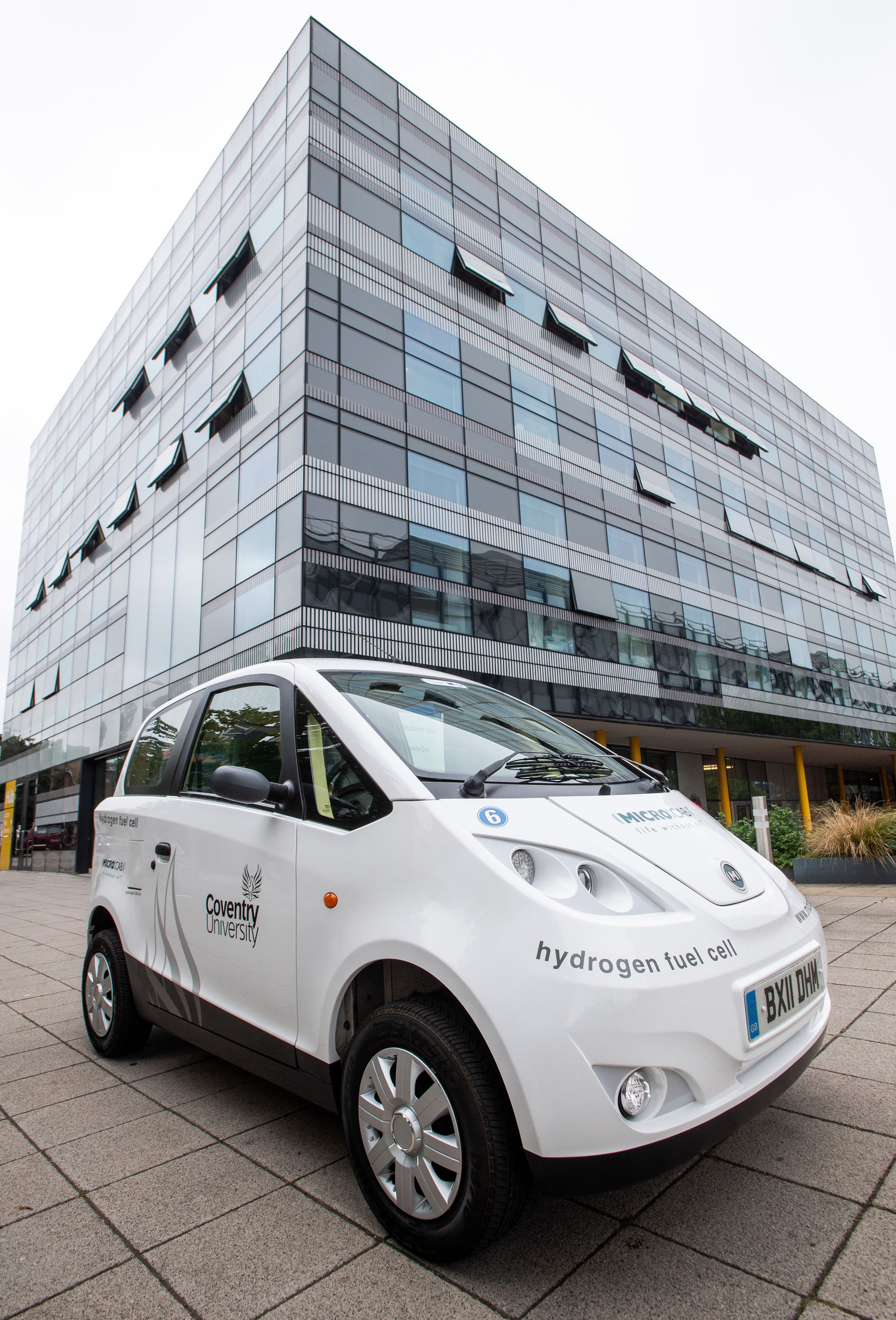 Microcab's managing director and professor of sustainable transport design at Coventry University's Institute for Future Transport and Cities, said:
Battery electric power tends to dominate discussion around zero emission vehicles, but hydrogen fuel cells will be a defining technology of the twenty-first century. This isn't about having a VHS versus Betamax debate about which technology will prevail, but more about how the two will work together.

It's a coup for the West Midlands to be hosting this event showcasing how far hydrogen fuel cell technology has come – quite a flag in the sand moment for our region which demonstrates how we're very much at the forefront of low carbon developments.

The aim is to boost the profile of hydrogen as an alternative fuel of the future. It doesn't come without its challenges, but it's the most abundant element in the universe and if efforts and investment are focused towards infrastructure to harness its potential, it could become the planet's preeminent energy source.
The European Commission-funded SWARM project has seen hydrogen-powered cars taking part in a four-year trial and technology development programme in the UK, Belgium and Germany.
Representatives from the European Union and Toyota will be among the speakers at the event in Coventry on Wednesday 17 October.
---
For further press information, please contact Alex Roache, senior media officer, Coventry University, on 02477655050 or email alex.roache@coventry.ac.uk.