Adam's plastic waste collecting boat inspired by ocean rubbish problem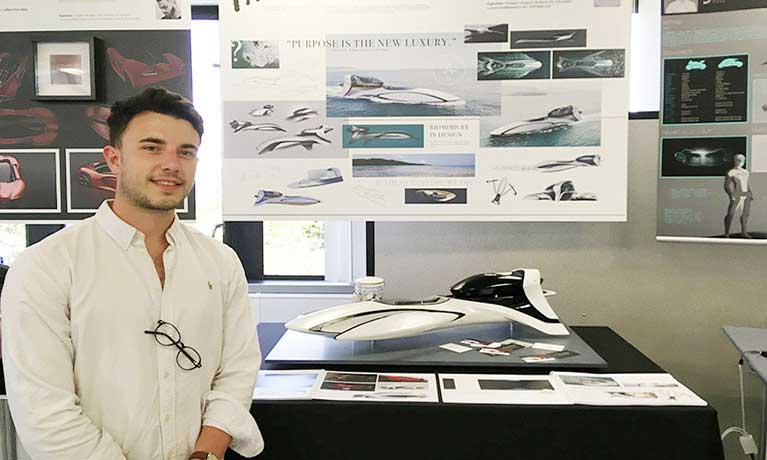 ---
Thursday 09 August 2018
Press contact
---
A student who was horrified by the amount of waste plastic he saw floating in the sea while diving has been inspired to design a boat that collects rubbish from the oceans.
Adam MacKerron was diving off the coast of Thailand last summer when he witnessed the shocking 'sea of plastic'.
It prompted the Coventry University transport design student to come up with an idea for his final year project that could help address the problem.
He designed an 86m long luxury boat that would be able to collect plastic floating in the seas.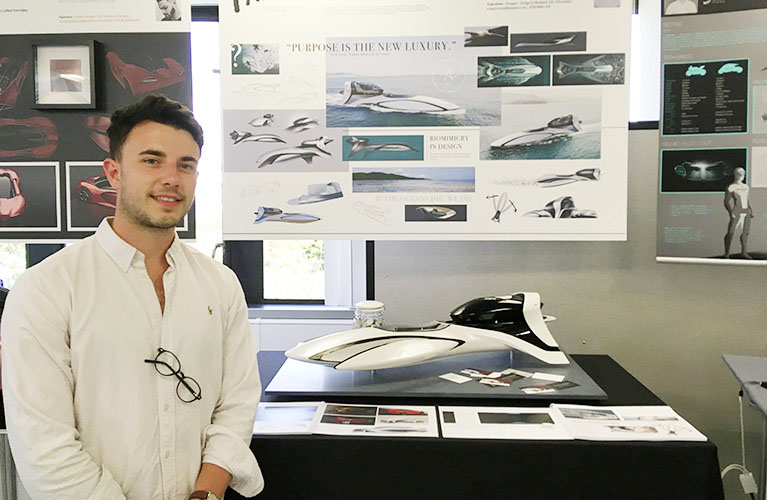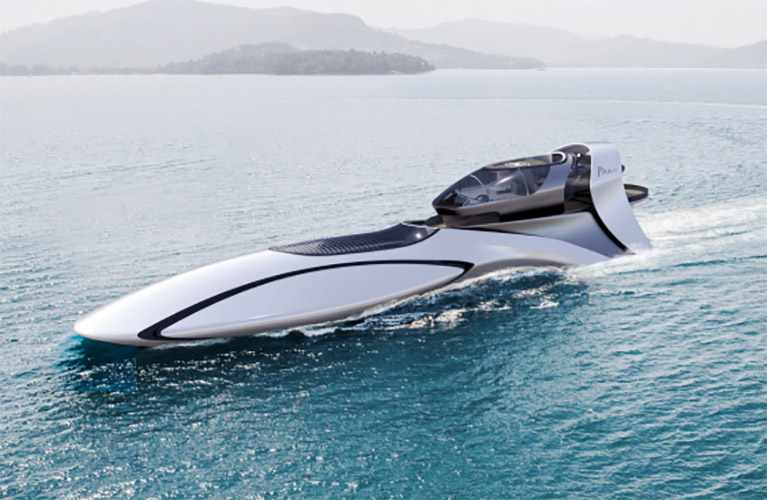 It does this by mimicking the jaw-splitting techniques of a blue whale.
The creatures have separate right and left lower jaw bones which means they can expand their mouths to collect a vast volume of water.
Similarly, the front parts of Adam's boat open up so that it can collect more waste.
Pieces of plastic rubbish are compressed and vacuum packed at the rear of the ship.
They are then trailed in the wake of the boat until it reaches land or geotagged and collected by nearby fishermen.
Adam's idea is that fishermen can then trade in the plastic as a source of income to help compensate for the depleting population of fish.
The boat features luxury accommodation with unspoilt views of the ocean, entertainment and relaxation areas and a leisure suite, that Adam hopes would be attract wealthy and environmentally-conscious tourists.
Adam's 1:100 scale model was created with support and sponsorship of Envisage group.
It was exhibited during Coventry University's end-of-year degree shows, where it won the Most Innovative Design prize.
Adam, of High Wycombe, was also presented with a Steve Only Memorial Certificate of Commendation award, which was given out by Warwick-based engineering company Contechs.
His project also went on show at the prestigious New Designers exhibition in London in July.
He has been in conversation with ocean campaign groups and companies about the next steps for his project and hopes one day his design will become a reality.
Adam, 23, said:
It was really alarming to see first-hand the impact that plastic waste is having on the oceans. After Blue Planet II plastic waste is something everyone is talking about, but I've seen how it is ruining the oceans for myself. It really made me think about what I could design that could make a difference.
A lot of people take part in litter collections on beaches, but I wanted to glamourise the concept of reducing plastic waste and encourage more people to do their bit.
Inspire me
2nd in UK for Teaching Excellence Framework (TEF)
Times Higher Education – June 2017
---
Game on
97% employed or in further study six months after graduation
DLHE – 2016/17
---
Hello world
We send more students overseas than any other UK university
HESA 2016/17