Formula Student team races to best ever result at Silverstone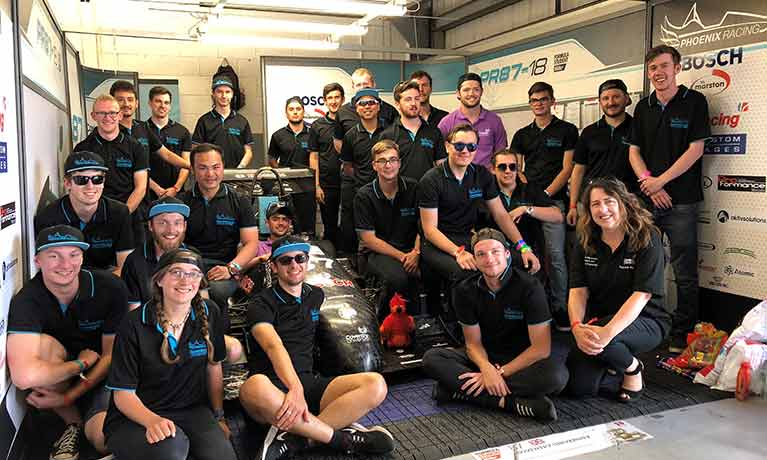 ---
Tuesday 17 July 2018
Press contact
---
Coventry University's Phoenix Racing team has recorded its highest ever result of eighth in the UK in the prestigious Formula Student competition.
The team finished in 14th place overall in the international contest after a tough three days of competition at the famous Silverstone racing circuit.
It was the culmination of 10 months of hard work for the motorsport engineering students, who designed, costed and built the single-seater racing car from scratch themselves.
The Silverstone competition featured a series of driving challenges on the famous track, including an endurance and acceleration race.
And the students also faced vehicle tests, technical judging and had to deliver presentations on the design, manufacturing, business case and budget.
They were in the Silverstone garages working on their vehicle from 7am until 11pm each day of the competition.
And it all paid off as their highest place finishes in the individual categories included ninth in the acceleration competition and 11th in the endurance race.
The team had a budget of £25,000, a fraction of money spent by some of the international teams.
They also received sponsorship and support from a range of local and international companies, including Bosch UK.
Many of the students who were involved as part of their final year degree project have already secured graduate roles at leading automotive companies.
The event, organised by the Institution of Mechanical Engineers, was won by Monash University, from Melbourne, Australia. A total of 81 vehicles from universities from around the world took part in Coventry University's class of the competition, with more than 40 universities from the UK racing.
Motorsport engineering student Ross Millar has been Phoenix Racing's team leader this year. He will start work as a research and development engineer for Nissan in September.
We're absolutely ecstatic. We've surpassed our dream of where we thought we could finish in the competition.
Formula Student may be part of our degrees, but for 10 months it becomes our entire lives. There is a lot of blood, sweat and tears involved, so much teamwork and effort. But when the car rolls onto the track it is all worth it. It's an amazing feeling to know we have done this.
We were surprised by how few other universities competing include first, second and third years in their team, like we do. I know there's a good 10 to 15 members of our team who will still be around in 2019, and I'm confident they will do even better at Silverstone next year.
Ashley Lees, head of the university's school of mechanical, aerospace and automotive engineering, said:
I am incredibly proud of the whole Phoenix Racing team – they have excelled themselves this year. Their hard work, determination and talent paid off. It will be great to see the first and second year students who took part return next year and hopefully take the team to an even higher finish in 2019.
Formula Student is a hugely valuable experience for our students and helps open up many employment opportunities for them. I know that all those involved this year have fantastic futures ahead of them.
Inspire me
2nd in UK for Teaching Excellence Framework (TEF)
Times Higher Education – June 2017
---
Game on
97% employed or in further study six months after graduation
DLHE – 2016/17
---
Hello world
We send more students overseas than any other UK university
HESA 2016/17