Graffiti artist to create Delia portrait for International Women's Day
Business news / Alumni news
---
Wednesday 07 March 2018
Press contact
---
Graffiti art will help Delia Derbyshire inspire a city when her image is spray-painted onto a Coventry University building for International Women's Day 2018.
A life-sized portrait will honour the electronic music composer behind the Doctor Who theme music who was last year awarded an honorary doctorate by Coventry University.
The image will be sprayed on Thursday morning at the university's Ellen Terry building – a former Odeon Cinema now home to music and performing arts teaching.
Born in Coventry in 1937 Delia is best known for creating the Doctor Who theme music which was inspired by the sounds of air raid sirens and explosions she heard growing up during the city Blitz in the Second World War.
She was largely unrecognised during her lifetime, being turned away from studios which did not employ women before eventually finding work at the BBC Radiophonic Workshop.
Her struggles are heavily aligned with this year's IWD theme of gender parity, and her story will help showcase Coventry's heritage in the run up to City of Culture 2021.
Stewy, the anonymous street artist behind the artwork, said:
Delia was an innovator in so many ways, as a woman and a musician and that's what my work is about, people who push the boundaries.

I paint portraits near to where someone was born, worked, or died. They become a bit like shadows of people in their own places and that's what makes it feel so special to me and so relevant to people living there today."
Delia last year received a posthumous honorary doctorate of arts from Coventry University which is working with Noctium Theatre to run workshops on her life and work in primary schools across the city.
Annette Kinsella from Coventry University, said:
We are really pleased to have this artwork and hope it will inspire people to look into Delia's story, especially girls who may be encouraged to study STEM subjects or to look at these subjects in a different way - just like Delia did.

We know when Delia started her career she was subject to discrimination battling in a man's industry. It is thanks to her tenacity that she was able to achieve her ambition and to push the boundaries of music, the legacy of which is still being felt today."
The acrylic paint artwork will be sprayed onto the Ellen Terry Building, Jordan Well, CV1 5RW at 9am on Thursday March 8.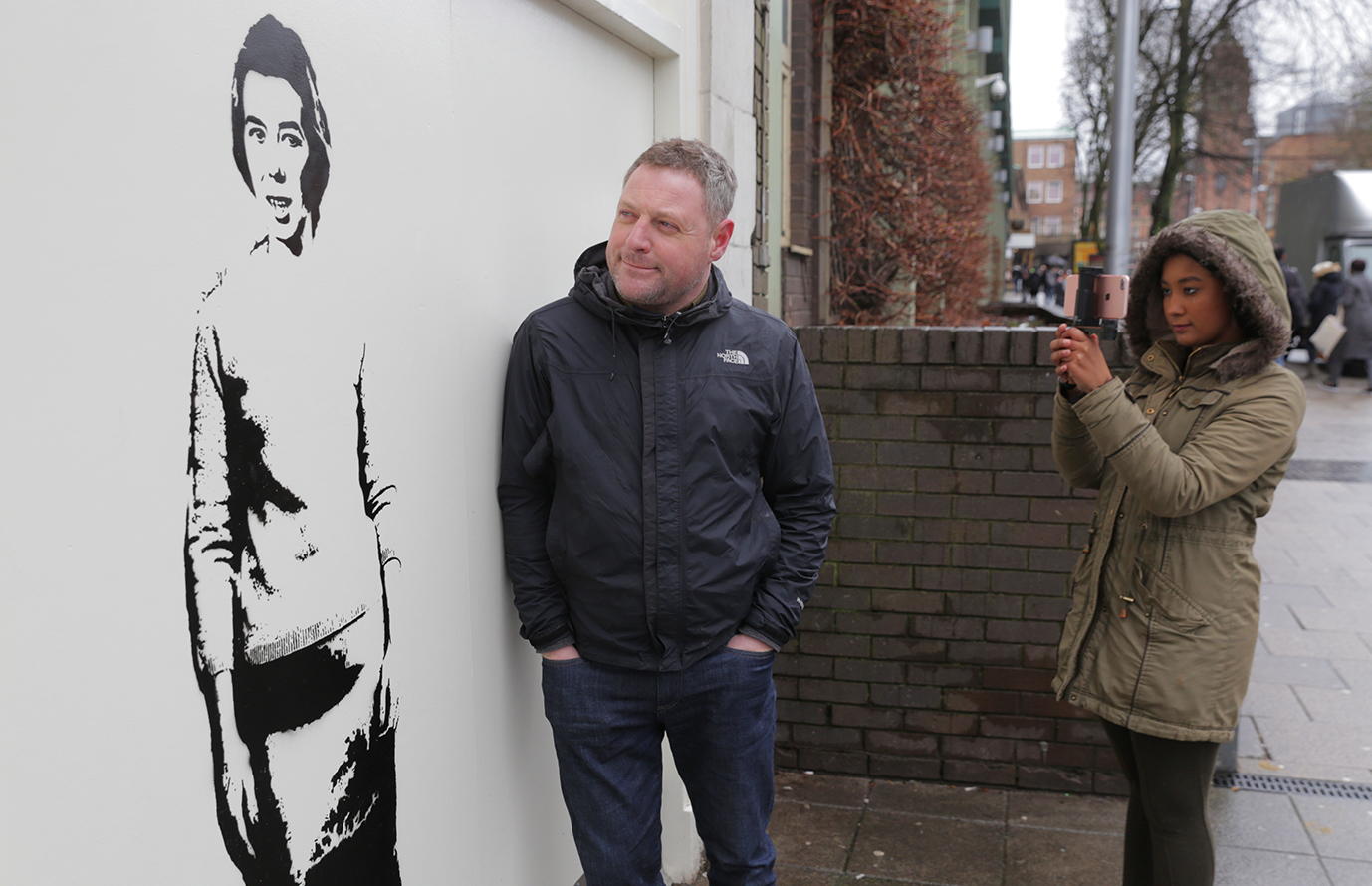 Image: Graffiti artist, Stewy, posing next to his latest portrait of Delia Derbyshire, located outside the Ellen Terry building on campus.
---
For further press information, please contact Hannah Smith, press officer at Coventry University, on +44 (0)24 7765 8352 or at hannah.smith@coventry.ac.uk.