From Dismaland to Coventry – miniature mayhem on campus
Thursday 02 June 2016
Press contact
---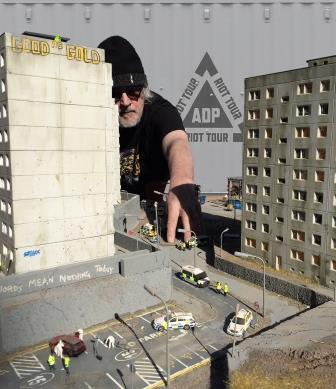 There will be scenes of carnage in Coventry later this week but people needn't be alarmed, as the disturbance is all part of a visiting art installation. The Aftermath Dislocation Principle (ADP), a post-riot landscape, created in miniature by celebrated artist Jimmy Cauty, rolls in to Coventry's University Square this week.
Following its critically-acclaimed appearance at Banksy's 'Dismaland' last summer, the installation has taken to the road, re-housed in a specially converted shipping container, and will be on view in the city from Saturday 4th to Wednesday 8th June.
The ADP Riot Tour will be available to view between 10am and 4pm each day, at the University owned space, close to the Herbert Art Gallery.
Housed in a 40ft shipping container, the ADP is a thought-provoking, monumental post-riot landscape in miniature. In this dystopian model village only the police and media teams remain, in an otherwise deserted, wrecked and dislocated land, all in 1:87 scale and viewed through peepholes in the side of the container.
The origins of this piece lie in a series of works known as 'A Riot in a Jam Jar' in which Jimmy Cauty constructed tiny scenes, some of a riotous nature, inside upturned jars. But the shipping container ADP – while not for mantelpieces, display cases and gallery plinths –is a totally self-contained artwork that can go anywhere to seek its audience.
Using the location as part of the art work itself, the artist's team explained:
"At each stage of the tour, through the fine tradition of pamphleteering we will be issuing colourful ADP propaganda alongside more level-headed leaflets that discuss each location's 'riot'.

The tour takes in sites where a riot or significant civil unrest has occurred: places of real 'Aftermath'. In no way is the intention to explain the ADP concept or to romanticise the role of social disorder, but instead to tap into that stream of consciousness, whether radical or reactionary."
Backed up by a network on social media, the ADP aims to get people talking, as well as flocking to view this free and thought provoking installation.
---
For further information, please contact Jeanette Lunt, external press and media relations officer, Coventry University, on +44 (0)24 7765 5050 or email jeanette.lunt@coventry.ac.uk.
Notes to editors:
Image: Artist Jimmy Cauty during construction of the Aftermath Dislocation Principle (ADP).

A wide selection of other photographs of the ADP, inside and out, are available on request.

All media and interview requests should be directed to

sophie@L-13.org

ADP online channels:

Website: www.l-13.org

Twitter: www.twitter.com/jamescauty (@jamescauty)

Instagram: www.instagram.com/ADP_Riot_Tour

Facebook:

https://www.facebook.com/JimmyCautyADP/

Official ADP hashtag: #AdpRiotTour