Coventry University's Chelsea Flower Show exhibit wins award
Thursday 26 May 2016
Press contact
---
The team behind Coventry University's 'healthy gardeners' showcase at the Chelsea Flower Show has been awarded a coveted accolade by the event's judges.
Coventry's biomechanics experts – whose unique exhibit uses motion capture technology to show how gardening can be healthy – have won a bronze medal in the 'Discovery' category, which focuses on the science behind growing plants.
The Royal Horticultural Society (RHS) judges were not the only ones wowed by what they saw – academics Dr James Shippen and Dr Barbara May also met Her Majesty the Queen, HRH the Duke of Edinburgh and HRH the Princess Royal.
Coventry's high-tech kit – which is similar to gadgetry used in Hollywood to create characters like Gollum – is being showcased at the show this week as part of a collaboration with the RHS to research which tools and methods are most effective in helping gardeners to improve their health.
Dr Shippen, from the University's Centre for Mobility and Transport, said:
It's a great honour to have been recognised in this way by the Royal Horticultural Society's judges and validates our on-going relationship with the RHS to introduce modern analysis methods into horticulture. We arrived in the morning to find our award certificate on our stand, which was a lovely surprise. I don't think many universities can boast a medal from the Chelsea Flower Show!

We've had a wonderful time so far showing green-fingered guests of all ages how gardening can be good for you, and we have also attracted interest from a number of industrial organisations including garden tool manufacturers, manual handling companies and horticultural magazines. We'll be here until Saturday spreading the message. I don't anticipate any more visits from Her Majesty the Queen, but who knows – she did seem quite impressed with the work being done to promote gardening as a healthy activity!"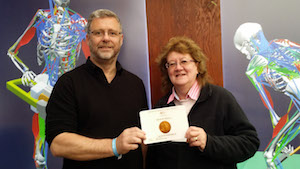 Dr James Shippen & Barbara May collecting their bronze award.
---
For further information, please contact Alex Roache, external press and media relations officer, Coventry University, on +44 (0)24 7765 5050 or email alex.roache@coventry.ac.uk.
Notes to editors
IMAGE: Coventry University's Dr James Shippen and Dr Barbara May with the Chelsea Flower Show bronze medal certificate.
Full list of awards here: https://www.rhs.org.uk/shows-events/rhs-chelsea-flower-show/awards