DMLL shortlisted for national student experience award
Wednesday 23 March 2016
Press contact
---
Coventry University is hoping for another success at an education sector business awards ceremony later this year.
The University's experimental learning unit – the Disruptive Media Learning Lab - has been shortlisted in the Innovative Award for Student Experience category at the College & University Business Officers (CUBO) Awards 2016.
The shortlisting highlights the DMLL's commitment to its core values: using innovative and disruptive techniques to further advance the learning experience of all students who pass through the University.
Launched in 2012 The CUBO awards cover a range of areas from Best Marketing Campaign to Best Catering Service, recognising the great achievements of those working within the higher education industry. Nomination for the Innovative Award for Student Experience represents a key success for the DMLL, as an acknowledgement of the space's expressive, expansive and open approach to education.
Following a visit to the DMLL in 2015, Richard Francis, Digital Services and Learning Technology Manager at Oxford Brookes, said:
…The DMLL, as a space, bears the mark of its inhabitants. Everywhere, one encounters interesting things written on panels, partitions and other temporary surfaces, attesting to ongoing efforts by a heterogeneous but close-knit group of people to initiate, take forward and share ideas and activities."
Speaking on the award nomination, Jacqueline Cawston, Acting Co-Director Disruptive Media Learning Lab, said:
Here at the DMLL we're extremely proud of the achievement. Receiving a nomination in the CUBO Innovative Award for Student Experience category represents a culmination of work here in the lab and from across the University's various departments and staff members, as well as the ever exciting student body, and we hope to be the winning University on June 16th."
The shortlisting comes at a great time for the University following the recent Guardian University Awards success, and another acknowledgement of the University's commitment to its students, from an organisation such as CUBO, would be a wonderful achievement for the DMLL, and the University.
Speaking about the awards, CUBO pioneer, Peter Church, said:
The CUBO Awards have helped to raise the profile of both winners and entrants among key stakeholders, including Vice-Chancellors and university governing bodies. As the event grows and expands it will contribute to the growth of CUBO as it seeks to extend its networking and knowledge exchange across all UK Higher Education Institutions."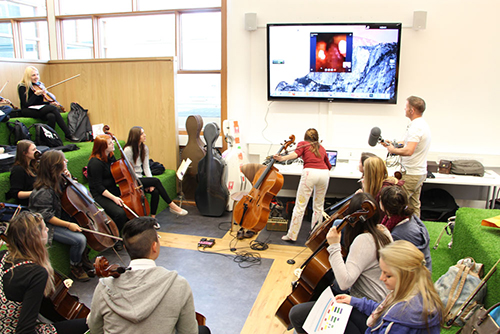 ---
For further information, please contact James Stride, PR Assistant, Coventry University, on +44 (0)24 7765 4562 or email James.Stride@coventry.ac.uk.