Double win for Coventry University at major award ceremony
Thursday 17 March 2016
Press contact
---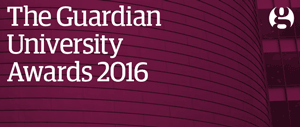 Coventry University is celebrating a double success at one of the UK's leading educational award ceremonies.
The University came out on top in two categories at the prestigious Guardian University Awards 2016, held in London last night (Wednesday 16 March).
With categories covering everything from student diversity to sustainability, the annual Guardian Awards act as a benchmark for the higher education sector and offer universities a seal of approval for their most outstanding work. Coventry University has built on its success at last year's event - when it took the title for the best employability initiative - by picking up two awards in 2016.
Firstly, Ian Dunn, the University's Deputy Vice-Chancellor (Student Experience) was crowned winner in the 'Inspiring Leader' category. Ian secured the title for his progressive approach to management alongside a tireless commitment to increasing access and providing an outstanding student experience for those who come to study at Coventry.
Coventry's second winner on the night was its Institute for Advanced Manufacturing and Engineering (AME). This innovative collaboration, which brings together the University and Unipart Manufacturing, was voted the higher education sector's best 'Business Partnership.'
Ian Dunn's association with Coventry University goes back over 25 years as a lecturer and as a member of its senior leadership team. He is also closely involved in civic duties for the city of Coventry and works closely with community groups, the local enterprise partnerships, the city council and schools and colleges. Ian said of his award:
I am truly honoured and humbled to have been chosen as winner. It's a great result for me personally but ultimately it's further recognition for the good work going on at Coventry University. I'd like to thank all the people who have helped me to ensure that our students have an enjoyable and rewarding time while they're with us.

Alongside this award, consistently high results in student satisfaction surveys are testimony to the fact we're getting things right for the people who really matter the most.
Known as the UK's first 'Faculty on the Factory Floor', the Institute for Advanced Manufacturing and Engineering impressed the judges with its new approach to delivering industry-ready graduates with 60 budding engineers currently benefitting from hundreds of hours of 'live manufacturing' learning every year.
AME's 1,700 square metre manufacturing hub in Coventry is also fast becoming a world class research and development centre, with multi-million pound projects delivering new powertrain solutions for the automotive, aerospace and rail sectors well underway.
Professor Carl Perrin, Director of AME, said:
We're delighted to have been voted best Business Partnership at this year's Guardian Awards. It's only 18 months since Unipart and Coventry got together to develop the Institute and while there have certainly been challenges along the way we are now bearing witness to all the hard work that everyone has put into the initiative.

We're delivering a step change in manufacturing education that is all about innovative learning and research with a sharp commercial edge and the latter is already providing new solutions for the likes of Ford and Aston Martin.
The successes at the Guardian Awards follow a number of recent notable achievements for Coventry University, which include being named 'University of the Year' in the Times Higher Education (THE) Awards 2015 and 'Modern University of the Year' for the third time running by the Times and Sunday Times Good University Guide.
The University also rose into the UK's top 15 in the latest Guardian University Guide, was voted top for personal development in the National Student Survey 2015, and was last year presented with one of the most coveted accolades in UK business – the Queen's Award for Enterprise.
Professor John Latham, Vice-Chancellor of Coventry University, said:
I'd like to offer my personal congratulations to Ian and Carl and his team on their success at this year's Guardian Awards. These are tremendous achievements for all concerned and add to our outstanding portfolio of accolades.

We're especially pleased with what these awards represent. Ian and his colleagues strive to make sure our students have a great experience during their time here and it's immensely satisfying that their efforts on that front have been recognised.

Likewise, we're committed to bolstering our students' employability, extending our research capability and boosting our links with industry. The Institute for Advanced Manufacturing and Engineering is delivering on all these objectives so it's great too that this partnership is being celebrated within higher education and business circles at a national level.