CU Coventry class of 2018 graduate
University news / Student news
---
Thursday 19 July 2018
Press contact
---
A celebration of success has been held at Coventry Cathedral to mark the achievements of students studying in the city.
CU Coventry, part of the Coventry University Group, has held its 2018 graduation ceremony.
A total of 379 students graduated from the institution – with more than a third achieving first class honours.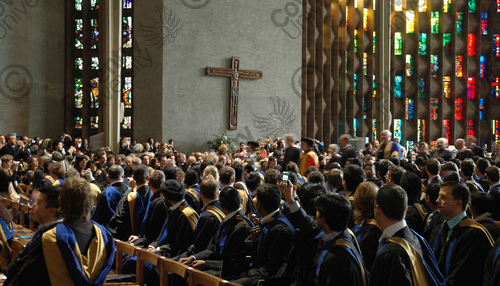 Graduates and guests were invited to the Cathedral for the ceremony where they heard from Pro-Vice-Chancellor and Chief Executive Officer John Dishman.
An after party was then held at St Mary's Guildhall including refreshments and canapes as well as an instabooth taking commemorative photos, and careers experts were also on hand to give graduates advice on their next steps.
CU Coventry provides an innovative model in higher education which is flexible to fit around the lifestyles of modern learners and also the skills, jobs and placements needed to be an attractive candidate to employers.
Chow Kong graduated at the ceremony with a first class honours in biological and chemical sciences, with CU Coventry opening doors which enabled him to take part in a cutting edge medical research project.
Chow, from Malaysia, moved to the UK to attend university and chose CU Coventry because of its unique model of career-focused education.
In his third year he was given the opportunity to take part in a research project focusing on reproductive medicine to help women who suffer from recurrent miscarriage at the clinical sciences research laboratories of University Hospitals Coventry and Warwickshire.
The project was organised by CU Coventry's course leader of Health and Life Sciences Hiela Gharanei in collaboration with Professor Jan Brosens, with Chow being the only undergraduate taking part in the research.
He is now set to remain in the city to complete a Masters degree and continue working on research at the hospital.
Chow said:
I didn't like the thought of a learning environment that involved sitting in big lecture theatres, which is why CU Coventry's model of small class sizes and a lot of contact hours was perfect for me.

The focus on developing employability skills was also very important as the job market is very competitive, so I wanted to go somewhere which would help me stand out from the crowd.

I was lucky enough to be introduced to the research department at the hospital by one of my tutors, and the project I took part in gave me a good personal insight of what the job entails and the development in the industry recently.

It was also an amazing opportunity for me to apply the knowledge and theory I gained from my degree to the practical environment. I am so grateful for the opportunities CU Coventry has provided me with and I am now looking forward to continuing to work on research at the hospital during my Masters.
Jackie Mathers, Associate Pro-Vice-Chancellor at CU Coventry, said:
We have seen some fantastic results this year and I would like to congratulate all of our graduates on their outstanding achievements.

I would like to wish them the very best of luck as they go on to further education or move into the world of work. I have no doubt that they will go on to accomplish amazing things in the future.
CU Coventry is now accepting applications through Clearing. A dedicated Clearing Hotline has been launched for those wanting to find out more and can be contacted on +44 (0)24 7765 9659. Information can also be found by emailing clearingsupport.cu@coventry.ac.uk.
---
Why choose us?
Inspire me
2nd in UK for Teaching Excellence Framework (TEF)
Times Higher Education – June 2017
---
Game on
97% employed or in further study six months after graduation
DLHE – 2016/17
---
Hello world
We send more students overseas than any other UK university
HESA 2016/17