Coventry University to play five-year host to UN academic council
University news / Business news
---
Tuesday 20 June 2017
Press contact
---
Coventry University's Centre for Trust, Peace and Social Relations (CTPSR) has been selected to host the headquarters of the prestigious Academic Council on the United Nations System (ACUNS) for five years starting in 2018.
The university's research centre, which is based on its Technology Park and which specialises in trust, peacebuilding and human security, will assume the role of secretariat to ACUNS from next year.
This significant appointment brings the headquarters and secretariat of ACUNS outside North America for the first time. Previous hosts include the Ivy League institutions Dartmouth College, Brown, Princeton and Yale in the US and Wilfrid Laurier University in Canada.
ACUNS, which is celebrating its 30th anniversary this year, has around 900 institutional and individual members from over 50 countries – each sharing a common commitment to the UN Charter – and acts as an interface between global academic and practitioner communities and the United Nations system.
As host institution, CTPSR will – among other responsibilities – run international conferences and manage a global network that brings together researchers and professionals from around the world who have an interest in maintaining international peace and security, and promoting global development and human rights.
The role will be assumed at a critical time when the UN is facing challenges to reform and revitalise, and when the need for effective global governance has never been more urgent.
The announcement was made over the weekend at the ACUNS annual meeting in Seoul, South Korea, and marks the beginning of the transition from current host Wilfrid Laurier University to CTPSR.
Coventry University's Professor Math Noortmann, who will become executive director of the council next year, said:
"We're very much looking forward to becoming the new ACUNS headquarters and secretariat next year. The council is ready for the next step in its progressive development, and the Centre for Trust, Peace and Social Relations is dedicated to helping it advance as a global and inclusive organisation to further build its organisational capacity and stretch its international outreach."
Vice-Chancellor Professor John Latham said:
"It's an honour for Coventry University and for our Centre for Trust, Peace and Social Relations to be selected to host the ACUNS headquarters and secretariat. The shared strengths and ambitions of our organisations in international relations, peacebuilding and security, among many other things, will help the council to grow its impact and influence in a global community in which academia and scholarship play such an important role."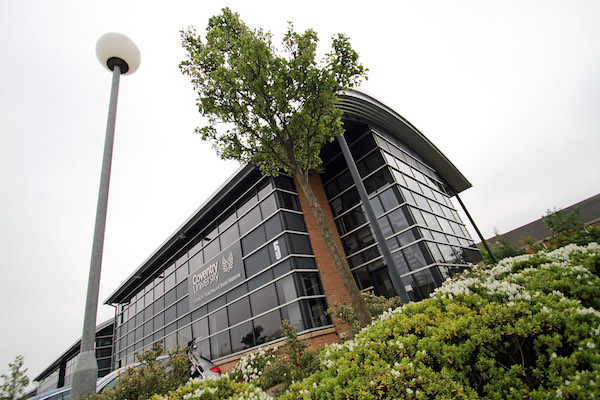 Image: The Centre for Trust, Peace and Social Relations (CTPSR) at Coventry University.
---
For further press information, please contact Alex Roache, senior media officer, Coventry University, on 02477655050 or email alex.roache@coventry.ac.uk.