Big Read BookBench inspires creative classes
Friday 03 June 2016
Press contact
---
Coventry University's Literacy team have teamed up with local schools across the city to introduce an artistic twist on a public space. Incorporating the help of a nationally recognised author to inspire the design of a new BookBench.
As part of the Wild-In-Art, Big Read project, the Coventry children agreed to design a BookBench to theme of Mark Lowery's latest children's novel - 'The Jam Doughnut that ruined my Life' – a story depicting the trials and tribulations faced when life comes between a boy and his raspberry doughnut. After reading the novel the children each designed a BookBench inspired by the thoughts and feelings brought out of them through their reading.
As part of the design process for the Wild-In-Art Big Read BookBench, students from Binley Woods Primary, Westwood Academy, St Elizabeth's Catholic Primary School, and Sacred Heart Catholic Primary School, attended an author event with Mark Lowery, at Frederick Bird Primary on the 23rd May.
The first of two events organised by Coventry's literacy team that day, in which Mark spent time discussing his novel with the students, as well as getting the children involved in some general reading activities.
Coventry students from Templars Primary, St Bartholomew's Church of England Academy, and Nicholas Chamberlaine School, met at Aldermoor Farm Primary for Mark's second author event on the 23rd, where the students were privy to a sneak peak of his latest work, 'The Chicken Nugget Ambush'. Following the event over 70 designs were submitted and now Dr Emma Vardy and Prof Julia Carroll have the unenviable task of selecting a winner, a tough feet when presented with such fantastic designs.
Speaking on the initiative, literacy academic Dr Emma Vardy, said:
We have loved being able to link up with local schools to help children see what fun reading can be. We can't wait to reveal the final bench in June. Which from July, will be on show at Coventry Central Library, and from the autumn onwards on Coventry University Campus.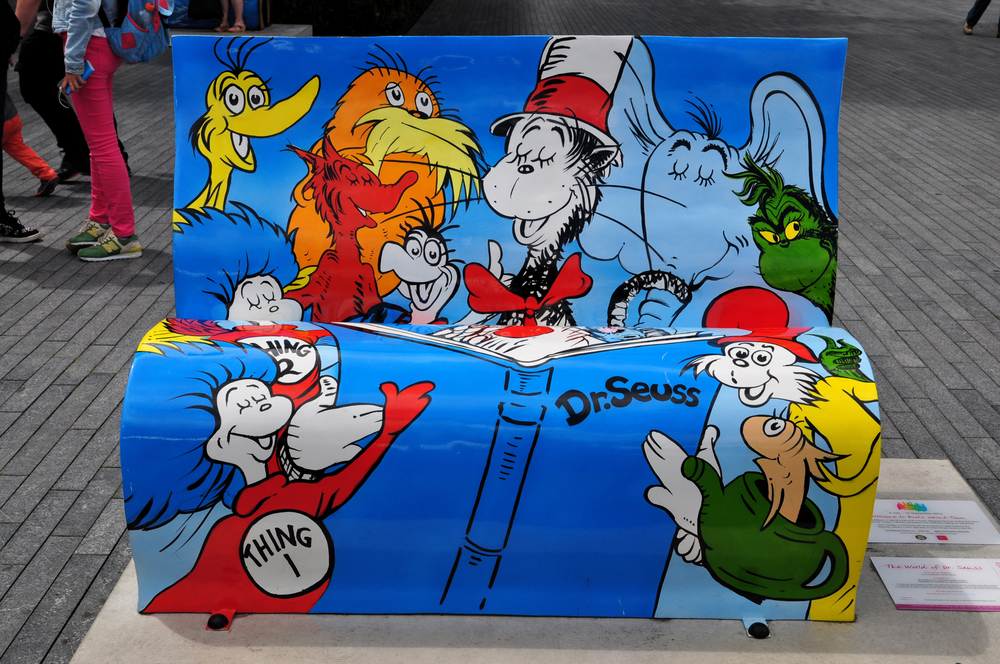 Previous example of a Dr.Suess BookBench created for a similar project.
---
For further information, please contact James Stride, PR Assistant, Coventry University, on +44 (0)24 7765 4562 or email James.Stride@coventry.ac.uk.
For more Information regarding any of the projects, organisations mentioned above:
The Big Read Project: http://www.thebigread.org.uk/
Mark Lowery's books: http://www.marklowery.co.uk/
Previous Book Benches: http://www.booksabouttown.org.uk/?action=ListBenches