Big Read project seeks creative Coventry kids for BookBench design
Tuesday 29 March 2016
Press contact
---
Coventry school students have been invited to participate in a region-wide project that will see their creative designs featured on a public BookBench - that will be part of The Big Read - a West-Midlands based art project.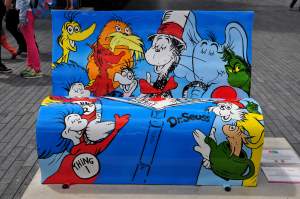 Local school children have been invited to get involved with the project by Coventry University's literacy team - who have purchased a BookBench – which they hope to design following the theme of Mark Lowery's novel - The Jam Doughnut That Ruined my Life – which has been shortlisted for the Roald Dahl Funny book award. Having children involved and impassioned with reading and creative writing is a key driver to enhance reading for pleasure, as Dr Emma Vardy explains:
Literacy skills underpin all areas of the curriculum and it is essential that children are enabled to achieve all that they can in primary school, in order to unlock their potential across the curriculum at secondary school. A key theme of our research is the vital role motivation and self-esteem play in early child development, and thus projects such as the Big Read really help to promote and engage young people in literacy based tasks."
The opportunity to get involved with the Coventry University BookBench design will run throughout the summer term, all participating schools will need to read the book, and then plan a design for the BookBench using one of the Big Read templates provided.
Following the success of last year's Little Hoot project – which saw hundreds of decorated Owlet sculptures located across Birmingham - the Wild In Art foundation have continued their work in the West Midlands to bring the Big Read project to life. Involving local schools and community groups the project aims to help spark young people's interest in reading and creative writing.
Notes to editor
The Big Read Project has been organised by the Wild In Art organisation in collaboration with The Schools of King Edward VI in Birmingham, Wesleyan, National Literacy Trust and the Birmingham Children's Hospital Charity.