Archbishop of Canterbury visits Coventry University to discuss shared vision for a peaceful world

---
Wednesday 27 February 2013
Press contact
---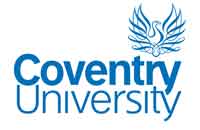 The Archbishop of Canterbury Justin Welby today visited Coventry University to discuss new ways for the church and the University to join forces in advancing a shared vision for transforming violent conflict worldwide. In talks with the Vice Chancellor Madeleine Atkins, Pro-Vice Chancellor David Soutter and staff from the faculty of Business, Environment and Society, the Archbishop discussed how the University can contribute its expertise to the church's mission in conflict transformation, post-conflict development, reconstruction and reconciliation.
Archbishop Justin spoke of the important role that churches play in building lasting peace in conflict-affected societies and the contributions that local churches make as trusted partners in communities experiencing conflict and violent upheaval.
The visit was organised by Professor Alpaslan Özerdem, director at the Centre for Peace and Reconciliation Studies. Professor Özerdem said of the event: 'It is a huge privilege for us to host Archbishop Justin and his staff here today. We already have a longstanding relationship with partners in the Anglican network of churches, especially with Coventry Cathedral and its dedicated reconciliation ministry, and we're delighted to be able to expand on this'.
The University and the Anglican church have been developing exciting plans for working together on a scoping study to see how faith groups can contribute to conflict prevention. Once funding is secured, this will provide a unique opportunity for researchers from the University and the church to case-study the efforts that churches Nigeria and Solomon Islands are already making to prevent conflict.
The Archbishop visited the University along with his newly-appointed Director for Reconciliation, Canon David Porter, who continues to lead the unique reconciliation ministry at Coventry Cathedral, and the Very Reverend John Whitcombe, Dean of Coventry. His visit links in with a Faith in Conflict conference taking place this week in Coventry Cathedral, which will hear from Christian professionals who have worked in transforming conflict for many years.