AME boss named as 'Manufacturing Exemplar' for boosting industry skills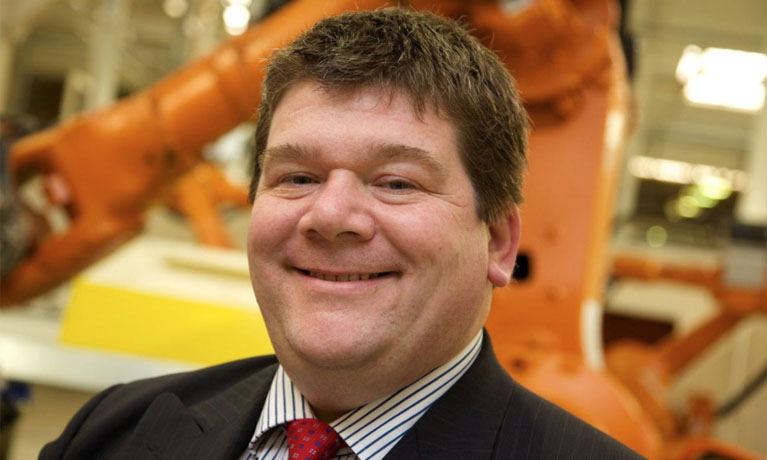 ---
Thursday 03 November 2016
Press contact
---
Helping develop the UK's first 'Faculty on the Factory Floor' has seen a Coventry-based engineering
specialist named as one of the 'Top 20' manufacturing professionals in the country.
Carl Perrin, Director of the Institute for Advanced Manufacturing and Engineering (AME), was recognised by The Manufacturer magazine for his leadership of the new venture that is currently training more than 90 graduates to become industry-ready.
The former graduate of Sheffield University has been instrumental in shaping the learning offer that sees young people study towards a BEng, MEng or MSc by applying theory direct to live Unipart Manufacturing shop floor projects – accelerating their progression by 12 months when compared with traditional courses.
Working with a team of technology specialists and professors, he has also established AME as one of the most trusted R&D centres in the UK, using its 1700 sq metre manufacturing hub to develop new powertrain and energy transfer solutions for automotive, aerospace and renewables.
This has included over £6m of funded projects and already led to Unipart securing a new fuel rail project for the Ford Fox engine and the start of production on a lightweight exhaust system for Aston Martin.
"Being included in the Top 100 was a real honour for me so to actually go one stage further and be named as an 'Exemplar' by The Manufacturer magazine really is the icing on the cake," explained Carl, who is a Chartered Engineer and Fellow of the Institute of Materials, Minerals and Mining.
"We have a continuing battle to raise the perception of our sector and through my work with AME I'm hoping to convince more young people to consider a career in manufacturing."
He continued: "I have also pledged to throw open the doors at our manufacturing hub in Coventry so businesses, school and colleges can visit and see why the UK's 'first Faculty on the Factory Floor' is making such a huge difference."
Carl joined AME from Rolls-Royce, where he was Head of Technology at a joint venture based in Nottingham. Here he was instrumental in the introduction of new coating technology and manufacturing processes for the latest generation of Trent engines.
He was appointed as Director of the Institute for Advanced Manufacturing and Engineering, a collaboration between Unipart Manufacturing and Coventry University, in April 2014 and given the brief to officially launch and develop the groundbreaking partnership.
Over the following two years, his team has recruited more than 90 undergraduates, whilst a number of international relationships have been successfully developed, including a tie-up with Purdue University in Indiana.
Carl concluded: "To be included in the same breath as Ewan Lloyd-Baker (Hayward Tyler Group), Mary Brady (Coty) and Davinder Bains (Magal Cables) is testimony that what we are doing at AME is working and creating a lot of interest in the sector. The challenge now is to make sure we continue to innovate the learning experience and keep developing new technologies that companies want to buy."
---
For further information, please visit www.ame.co.uk or follow @ame_uk on twitter