Visiting prof to boost study of sustainable manufacturing at Coventry Uni
Tuesday 11 October 2016
Press contact
---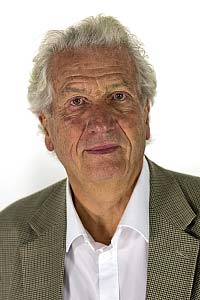 Coventry University has appointed a new visiting professor to enhance student engagement in sustainable manufacturing.
Bob Shanks, a chartered engineer and chairman of the Imagineering Foundation, will spend time with students in the university's Faculty of Engineering, Environment and Computing, providing mentorship and practice-based supervision.
The appointment – which has been made as part of a Royal Academy of Engineering initiative – follows a successful long-term partnership between the university and independent, volunteer-based education charity the Imagineering Foundation.
Co-founded by Professor Shanks, the foundation is run by a group of committed volunteers and is dedicated to introducing young people to the exciting world of engineering, science and technology.
Professor Shanks will bring 30 years of varied experience in engineering manufacturing to his three-year role as visiting professor – including a proven record in managing change, implementing high quality standards and creating an organic team environment.
Professor Shanks's whole career has been spent practicing innovation and sustainability whilst managing a design and production unit in a commercial environment – much of that time spent at Sandvik, based at Halesowen in the Midlands.
Since 2000 he has also put his skills and experience into practice in developing the Imagineering Foundation, with a view to enthusing young people to become engineers.
Professor Shanks said:
"I am looking forward to working closely with students and course tutors. I will be contributing to undergraduate courses, giving talks, helping to select and review student projects, mentoring and contributing to course formation. The focus will be on setting expectations and establishing understanding of the way design and manufacturing take place in a commercial industrial environment, complementing existing technical and academic teaching."
Ashley Lees, head of the School of Mechanical, Aerospace and Automotive Engineering in the university's Faculty of Engineering, Environment and Computing, said:
"I would like to offer a warm welcome to Bob to the university and to my school. His appointment extends the cementing of our relationship with the Royal Academy of Engineering. Bob's work through the Imagineering Foundation has inspired many into a career in engineering, and we look forward to working with him for the next three years."
---
For further press information, please contact Alex Roache, senior media officer, Coventry University, on +44 (0)24 7765 5050 or email alex.roache@coventry.ac.uk.